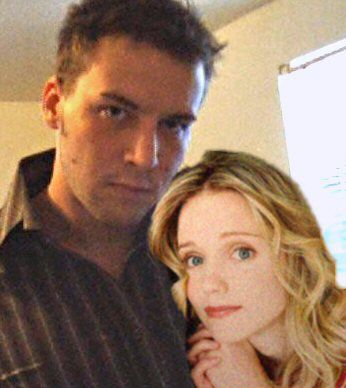 That means the wedding's not this month, it's next month. Holy Cow. We seem to be chugging along. A detailed budget was created (by Michael no less). All our vendors and frienders are nailed down. All of the girls have something to wear. The invitations are addressed and waiting for maps and stamps. Mike has made 3 of our estimated 10 centerpieces. He also decided to make my garter and bought materials for that. I've scanned all the pertinent pictures Mike and I possess for the slide show (family and friends are still gathering more).
It took me 72hrs to go through all of my photos scan and save them. It took me two hours to do Mike's and that includes pulling everything off the internet that other people we're nice enough to scan already. Finalizing is the name of the game these days: decor, time lines, music/play list, must take pictures, vows. The only things yet to be started are menswear and Mike's ring. Yeah, I think that's it...Oh, and supplies for the unity ceremony, but that's 30seconds and $5 of internet time.
Tomorrow is my 4th get together with my bridesmaids. The first was at my my house over the summer, the second was a nice dinner out while my sister was in town, the third was a surprise they planned for me so we could look at all the dresses together and tomorrow I'm taking them to lunch. I initially thought there would be envelope stuffing post lunch, but that's done so we'll probably focus on what I've forgotten, dates, times and completely unwedding related girl talk.
I talked to my friend, who was married in the fall, last night. She said she won't tell me not to stress because everyone does, but she told me about her wedding day. One of her girls showed up very late (like she wasn't sure if she'd be there when she walked down the aisle or not, kind of late). It just didn't matter once the day started. Not only that but she had been adamant that the walkway to her groom be lined with mason jars with candles. She didn't even realize until the day was over that they never got lit. So, I laughed and took a deep breath. Maybe now is the time to organize a bit more and let go because whatever happens that day will happen.