Cake Topper
It was one of those afternoons where at a certain point I just accepted God did not us at this place on time. It was the first (and last) attempt to make an appointment during Mike's lunch break so we could both go. We decided to take Riley sans nap. She got into my lipstick minutes before we were walking out the door. Between scrubbing her clown make-up job off and waiting for Mike's work call to end we got a late start.
Later than I thought, actually, because the baker called to ask if we were coming to our appointment which was apparently a half hour earlier than I thought. Oops! Traffic was not accommodating either despite it being a weekday afternoon. We arrived flustered and late.
They were warm and welcoming. At a glance Mike and I were worried, the sample cake slice was green. Like neon green. Yikes. She promptly explained that her baker took it upon himself to tint the cake green because it was mint chocolate flavored. It was very good cake. The butter cream between the layers was super light. They used mint flavoring and white chocolate. Mike and I agreed it needed to be more chocolatey. Everything they do is from scratch, never frozen which has apparently become a rarity.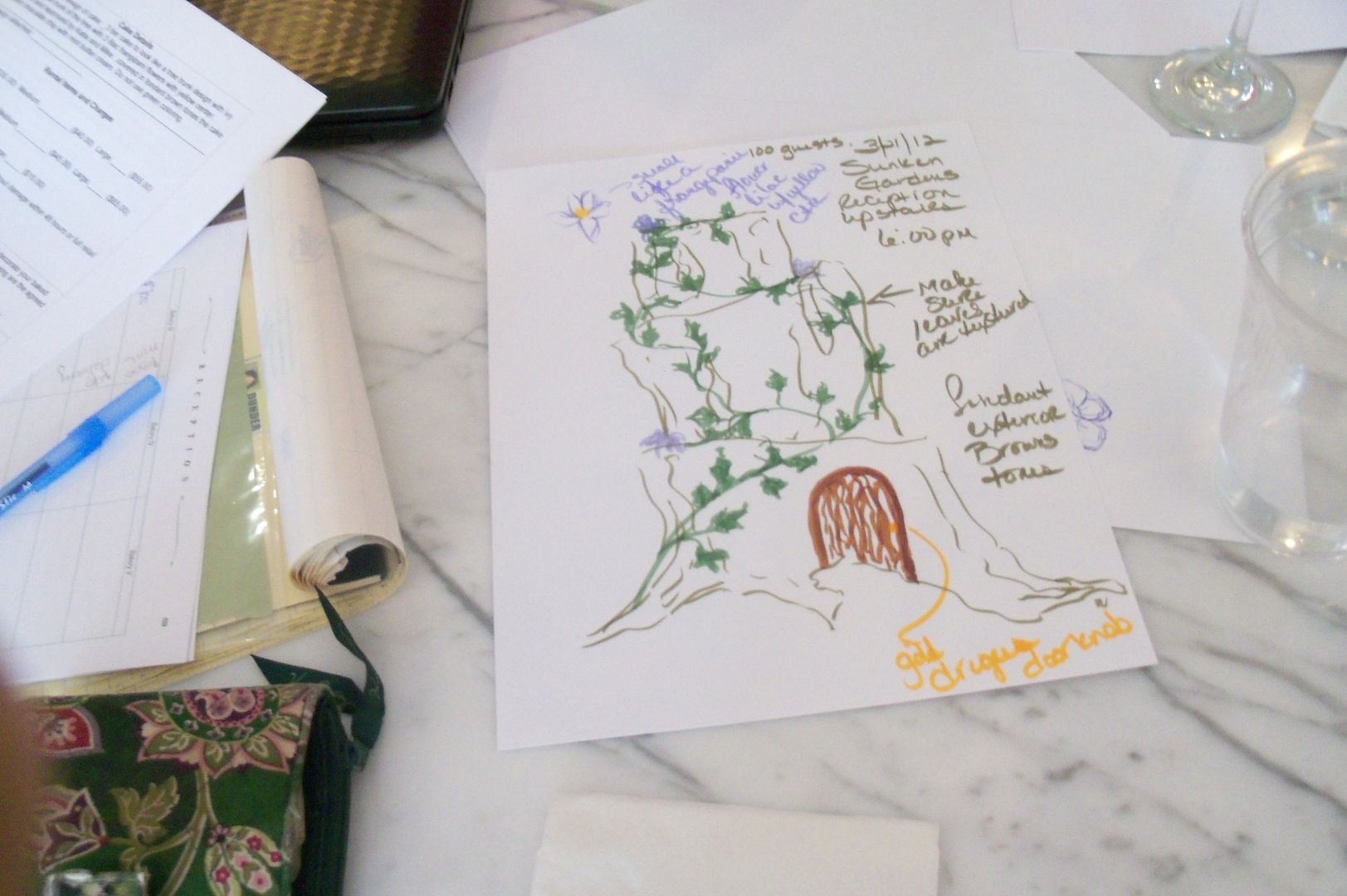 Then we started talking design. She sketched it out as if she could see the picture in my head. Ever meticulous, Mike took stock of and made suggestions for all the tiny details. It's going to look spectacular! The cake designer is thrilled to make it and wanted my photographers name so she can get some professional shots of the masterpiece. Three tiers of tree stump with climbing vine and three tiny lavender flowers. It also has a door in the bottom for the fairy who lives there. Hopefully my dream cake topper will be available in time for the wedding (it's availability has been pushed back from July to August, August to September and now September to October!).
One more piece falling in to place. Mike's a little worried about the flavor being exactly right, but I have faith that now that we've been incredibly clear they'll get it. Our enthusiasm is pretty infectious and a good motivator. It wasn't exactly a relaxing trip home rushing to get Mike back to work with a grouchy over tired toddler who'd had lots of cake in the backseat. Sometimes even when you accomplish things the stress of life and planning a wedding boil over. Today, it boiled over. I'm thrilled to add another member to my "dream team" of vendors and frienders, but I'm also exhausted by life just now and Mike's not faring any better. It's hard when you know exactly what you want because you find the need to let go, compromise or give up entirely.
It comes from loving each other so much that we can't stand to see the other one get less than what they want. I'm not saying we sold out on the cake. I'm quite happy (if a little bummed that I didn't calculate delivery/set-up, tax and cake board rental when I budgeted). It's going to be great, but in Mike's eyes they're doing it "wrong" by not achieving the flavor his way. I also think we both wish we didn't have to have fondant, but that's the price of wanting an Ace of Cake worthy design.
Mint chocolate flavored white cake made to look like a vine covered tree stump fairy house, rock on!