I got some updates from my fabulous dressmaker, Pantora by Andrea. She says the bodice is complete. Hurray! I have a top half. Here's the image:
Isn't pretty? I like it so much better in this color. Next we agreed on some bling rather than the rose from the orginal design. She sent me two options: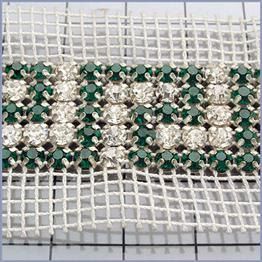 This first one is certainly the correct color stones. The green and white stones match my engagement ring and necklace. I'm just not sure about them being in such a geometrical pattern. Not enough chaos for me I suppose.
The second one is a much more free form looking pattern which I like. Obviously the stones in the example picture are blue. If she can find this with green and white stone similar to the colors of the first one, we're golden.
After that the skirt has to be assembled, which is by far the most time consuming (I'm assuming, I have no idea really I don't sew.). It will be champagne layers over ivory. Doesn't that sound beautiful? With lace trim on the hem. She asked whether I wanted the petticoat attached or separate. I felt completely unprepared. to date I can count the petticoats I've worn on one hand (past life as an actress), but I've never had one constructed for me. Neat. I went with attached because it seemed simpler. I hope I made the right call.
I'm about to make another payment on my masterpiece of a fairy inspired wedding gown and she says it will be ready earlier than she thought! I can't wait to try it on. I think I'll invite the bridesmaids and mom's to come see it when I do. Oh! Squeal! I have goosebumps.
I'm so glad I changed my mind. God Bless the talented folks on Etsy!