Originally, I wanted something like this for our programs because it's an outdoor ceremony.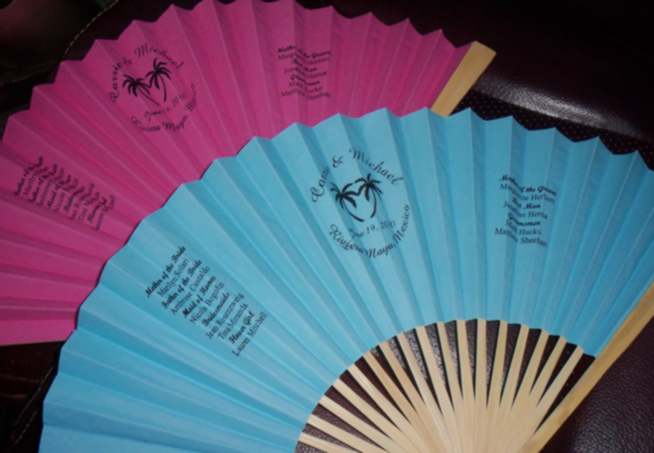 Well, I wanted a folding fan with a beautiful fairy image on one side and ceremony information on the other. Nobody does double sided, full color, folding fans in wood or plastic. The single sided option would run us around $300, no thanks. Some people do a DIY folding fan with panels.
I don't like it enough to spend the time on this version. As far as the paddle ones go, I just don't like them. On second thought, my ceremony is at 6:30pm anyway people shouldn't melt. Screw fans.
Now I'm torn between two kind of opposite ideas. First, I like the idea of doing just one poster sized program at the end of the aisle.
I love that it would be simple. I'd only have to make one, but I could do it myself. There's plenty of room to write. The down side is I'm not sure where we'd put it in an out door situation. Hmmm...
The other possibility is an interactive wheel (sound familiar?) style. I guess I never got out abandoned save the date idea out of my system, but can you blame me these are pretty sweet.
The middle has the bride and groom's names on it and the date. The outer circle has titles (MOH, officiant, etc) when you turn the dial it shows the name/funny nickname for each person. On the back they wrote the ceremony info and left a piece of paper in a pocket for each guest to write something. Those papers were collected at the reception and served as a guest book.
Now obviously these colors are fun, but mine would be earth tones. I was thinking maybe it could have a cool old tree on the front. We're solid on the guest book being a quilt so we could skip the pocket and just do ceremony info on the back.
The down side would be all that work just so the less scrapbook inclined people could throw them away afterward. Not as environmentally friendly. Less room to write, but I don't think that's a deal breaker. I'm gonna consult the wedding party and delegate some projects before I have surgery so it'll depend on who's willing to help with what really.
Opinions? Other alternative program ideas? Convincing arguments to skip programs entirely? Hit me.