Materials
Acrylic paint
Rubber Alphabet Stamps (or stencil)
Cardboard
Fine tip Sharpies
Q-tips and a damp rag
Here's one of the felt mushroom tags I made yesterday:
Test Phase
So, today I tracked down a letter stencil (Yay, crafty friends). I pondered long and hard over how to get this letters on these bags. I figured I'd probably use paint and the stencil. I tested black, white and brown acrylic paint on an extra tote. I also tried Sharpie in brown and purple. I really liked the white paint option, but there wasn't enough. I decided on brown. Then I tested paint through the stencil versis paint on a stamp. In the end I went with brown paint on a stamp.
Crafting
Start by setting your bag on a flat surface and inserting the cardboard. You want a nice hard surface to press the stamp against. I found it worked best when I dipped the very edge of a foam brush in the paint and then painted the letter. I used q-tips to clean up any excess paint around the letter. If you're not careful you'll get an ugly box from the edges of the rubber. My letters were decorated with leaves so excess painted turned the leaves into blobs. Position your letters far enough up not to be obscured with the bag is full and far enough over not to creep around the edge. Press firmly and lift using your other hand to hold the fabric to prevent sticking or smudging.
Full disclosure here, I forgot to check my hands for paint after all my tessting and I smudged the first one I did twice. Once while stamping and once while trying to wipe it off. I advise any fellow lefties to keep a spare piece cardboard to rest your on while stamping just in case. So, I turned them into leaves on a vine with a brown fine tip Sharpie.
After that I decided to add a different vine detail to each bag. I allowed the paint to dry for a few minutes and then used the fine tip Sharpie to fill in any holes in the paint or correct decorative elements turned bloby. They came out pretty good. Here's the first one done:
It's funny my Maid of Honor and one of my bridesmaids have the same intial letters in opposite order.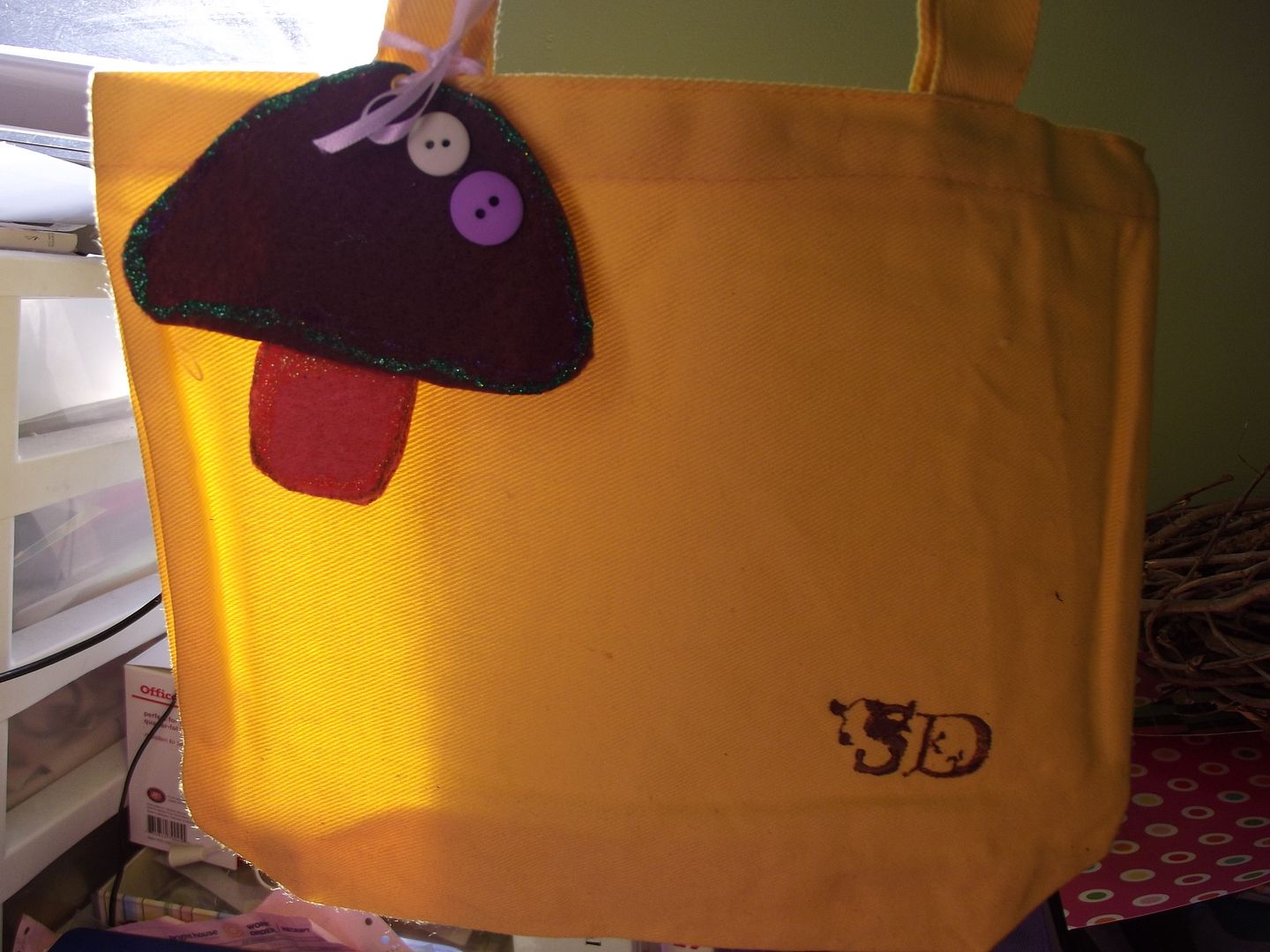 On top of that my sister and Mike's sister have first initials a few letters apart and the same last initials.
Viola! I'll be building the wedding day emerency kits with the help of a bridesmaid over the next several months and ordering the shirts I designed for the rehearsal shortly. I already have the bridesmaids necklaces. I'm just so excited that the actual bags are done. I hope they like them. You totally wish you were in my bridal party...