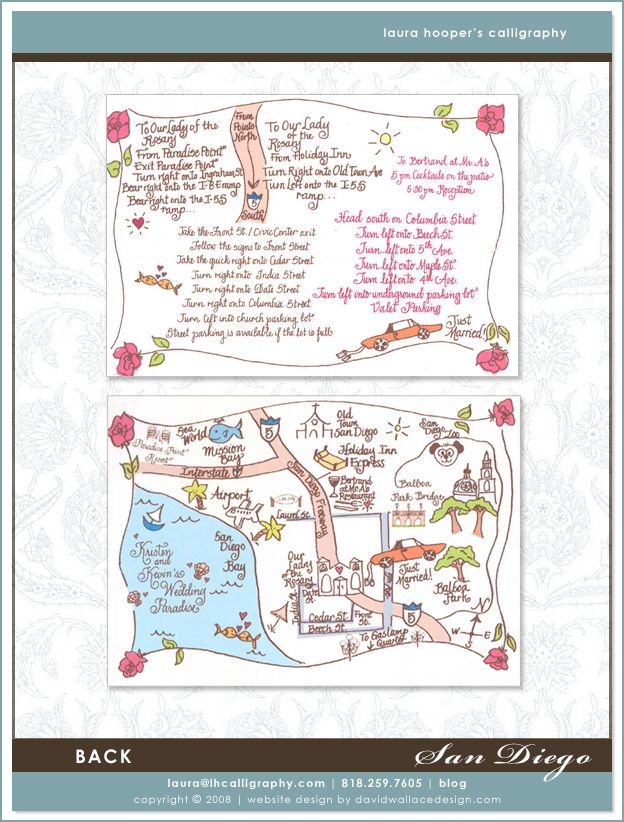 Here's the inspiration Lara found for the custom map her mother (my soon to be mother-in-law) designed to go with her invitation. Cute idea, right? Here's Lara's map:
Front
Back
I have no idea where I put it since we moved, but I loved that map so much I still have it over 2yrs later. She made in 8x10ish so the bride and groom could make it whatever size they wanted. It also means they have a framed keepsake from the wedding. After my almost sister-in-law's wedding a mutual friend of ours got married and she asked for a map too.
I am so excited that it's my turn! I gave her an invitation so she could try to match the color scheme and feel in the map. I came in with a list of ideas I'd gleaned from internet research. Most of them were impractical or would have been confusing. It starts out 8x10, but has to be readable at 4x6 and a functional map. So, adding the Tardis as an Easter Egg for our fellow nerds was out. We may use some fictional places in it as long as they're not confusing to our guests. I also like just married banner on the car in Lara's map. I'd want ours to say Honeymoon or Bust. I saw it on some maps on Etsy and it's totally how I feel.
It's so exciting. One more piece of the puzzle is underway. I'm getting to the point where I wish the wedding would hurry up, but mostly I'm still overwhelmed by how much is left to do. Having the invitations and map makes it feel so official.