Other People's Weddings: Pete and Jess
They gave us all the gift of a little pre-Thanksgiving vacation last year. We shipped out for a week to celebrate their union. Wedding and honeymoon in one what an efficient couple. It was my first cruise ever and I was pretty excited. Now having done it once with the whole family (the kids were 14mo and almost 8yr) I can't wait to do one just Mike and I someday.
They originally planned to cruise to Mexico and marry on the beach. When things got complicated they decided to marry in the ships chapel the second day and spend the rest of the trip enjoying their honeymoon. Good plan. A wedding at sea, so romantic. The ceremony was in the ship's chapel it was decorated in white (white candles, white flowers, etc). It was an intimate room especially compared with the rest of the ship. Pete wore a white linen shirt with a white rose boutonniere. The bride who I've rarely seen in a dress looked stunning. Her gown had beautiful sparkly embellishment under the bust line and she carried white roses. By far my favorite was her veil trimmed with sparkle, gorgeous. After a brief, entertaining and emotional ceremony we went to the piazza deck for pictures.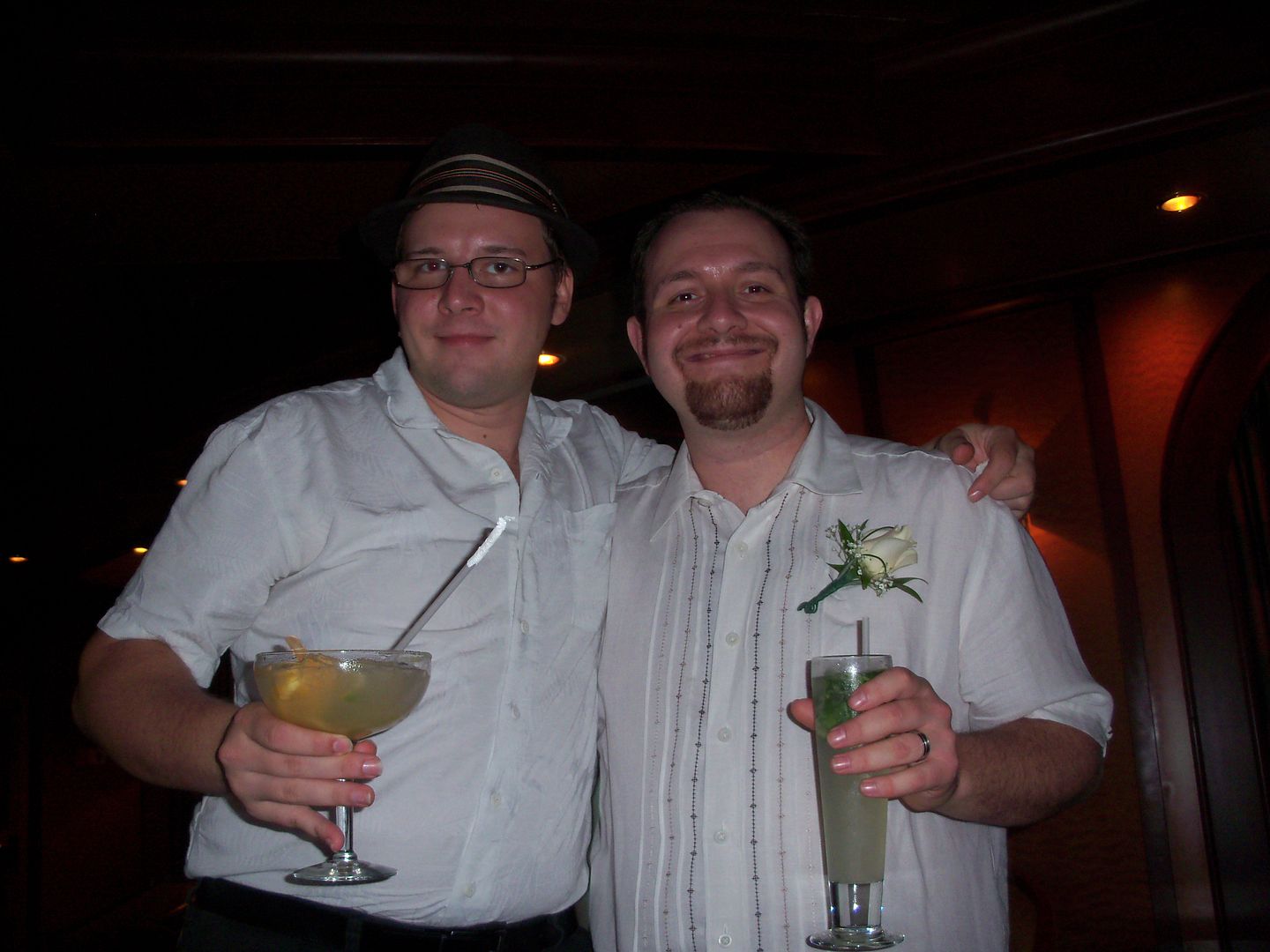 We took a brief intermission back to the room while the bride and groom took pictures around the ship. After that we headed to the reception at a bar on the other side of the boat. There were plenty of drinks, laughter, cake and pictures, but no dancing. We had a really good time. It seems more and more couples are foregoing the dancing these days. It's good to be happy and comfortable at your own wedding. Or course all the kids did their fair share of dancing in the piazza during pictures.
It was our first vacation with Riley and I was so grateful that we got our ducks in a row to attend considering small children and looming hip surgery. I also got to dress up and get all pretty for the first time since being on bed rest. It was so needed. Since the couple was sweet enough to marry early in the trip we even made it off the boat a few times to explore. Once to tour Mayan ruins in Mexico and again in Honduras for a birds eye view of all that beauty. Lovely.
It was a singular experience. I got to see two people I care about promise to be together forever and I saw the sun set in Mexico.
Wedded on the Waves