I hope you've enjoyed ring week! Sometimes, you spend months pouring over details to make a theme a reality and sometimes they just happen. I found a wonderful article that outlines the history of the wedding ring. Ancient Egypt all the way to today. I love everything about the wedding ring. I love a circle representing eternity because it has no beginning and no end. I love the left finger's "connection" to the heart. The hole in the center of the ring is not just space either; it is important in its own right as the symbol of the gateway, or door; leading to things and events both known and unknown. It's poetic and reminiscent of Stargate. Sigh.
I found my ring yesterday, Yay! It isn't an eternity band as I had thought it would be and the sudden posibility for engraving it is thrilling. I've been searching the internet and found quite a few suggestions.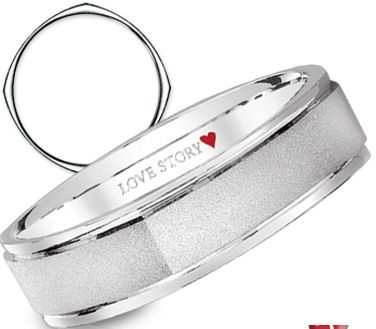 This isn't exactly an engraving, but it's pretty darn cool. Projector Ring. It's like the view finder toy meets wedding band. Here's a few fun ones people had inscribed in their rings:
Please return with man if found
Center of Gravity
May The Force Be With Us
I asked Mike what he thought about writing a little something inside our rings. I expected him to either have the perfect thing right off the top of his head or reject the idea completely, but he surprised me. He wants to wait a year (until our first wedding anniversary) and the engrave the rings. He thinks it would be nice to each put a promise to each other on them based on whatever emerges as the most important thing to the other person. I think it's a very sweet idea. Although "I'll pick up my socks" or "I'll do dishes once a week" wouldn't be quite as poetic as the song lyrics of Shakespeare I was imagining.