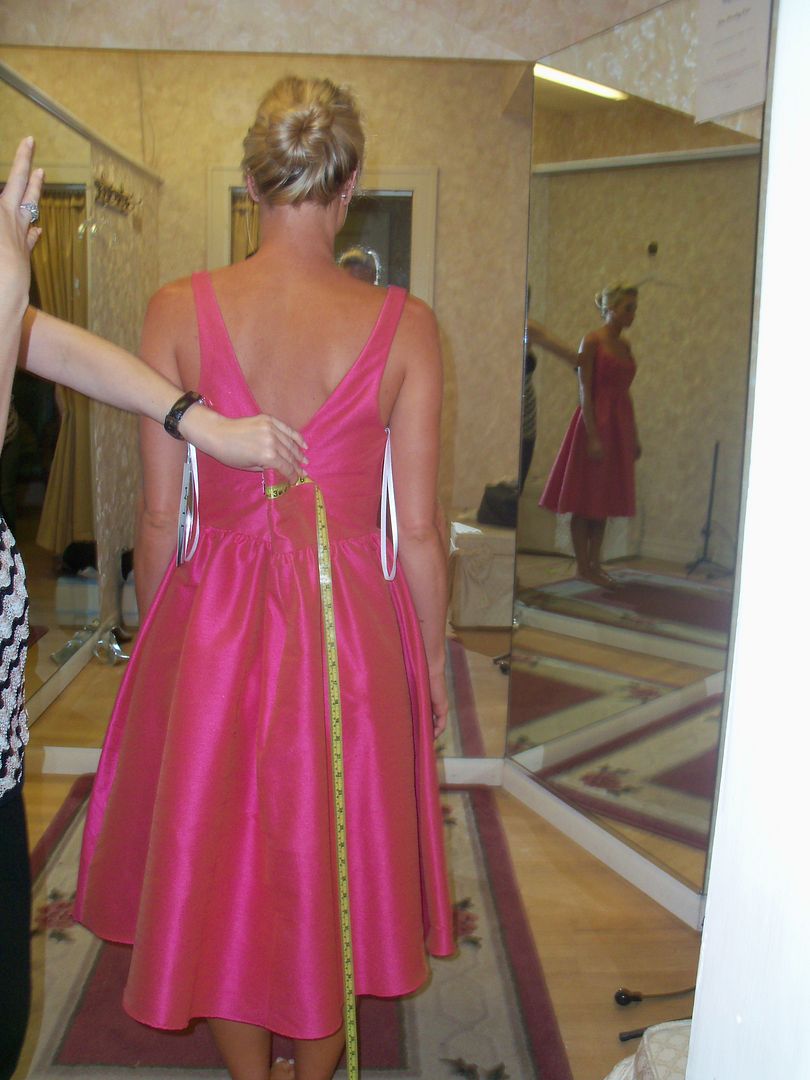 We've done it! All four bridesmaids dresses are bought and paid for. I was really nervous about logistics on this one. I was worried that we'd have major issues with fit or someone would HATE it. I was terrified that my sister would try it on and return the week of the wedding and it wouldn't fit. I was worried about the financial burden on the girls. I picked an expensive dress. A beautiful designer dress, but out of my normal clothes budget for sure. When I fell for this beauty I decided I would pay half if they all agreed to the other half. When they all approved of my choice: (Jim Hjelm style# 5007)and their half of the price I was elated. There were some concern expressed that my choice didn't really "go" with my whimsical theme. I felt a bit like a bride on My Fair Wedding for a moment. Then I considered my style and decided it is another part of my personality. I am both a fairy ballerina and an Audrey Hepburn want to be. Unlike the hapless, but sweet brides on the show these dresses are not cheap party store versions of something grander that I can not afford. They are simply another piece of me and if all the parts of my personality can co-exist so can these dresses. This classy number is also more likely to get re-worn (a bride can dream) than a flowy fairy-esque frock.
It'll be just like this (dupioni A-line tea-length bridesmaid dress, scoop neckline, gathered high-waisted skirt, side pockets) except in emerald. Again I applauded everyone for making it out on a week night. Best bridesmaids ever! The ladies at the boutique were sweet as pie as usual, I really love that place. They already had the dress in the fitting room. One at a time the bridesmaids arrived, tried on and got measured for their dresses. There was a lot of grumbling about sizes and measurements, but they all liked the dress itself. Jessie really enjoyed the sample color, stawberry pink. Not for my wedding, blah.
They told me they'd get all the dresses in January and I'd be notified. That works out great because I should have mine by then too. It'll be "dress month". They said they'd ship Jessie's dress FedEx to CA to anywhere someone could sign for it. I went ahead and paid her shipping costs and she gave them the address. It was a weight of my shoulders to know she'd have the dress 2mo before the wedding.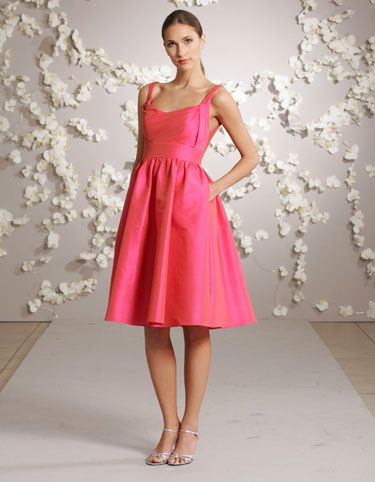 Everyone ponied up their share of the dress and I got a copy of each bridemaids order form to keep for my records. They emailed the designer for a replacement swatch because mine never arrived. I even checked the address on the card with my own eyes and found my address to be correct. The mystery of the disappearing swatch. My mom perused the MOB dresses again and found one she liked better for half the price. It's a tea length chiffon dress with a rhinestone embellished sash and gathering in the front in a darker shade of green.
My mom is a bit put off by the whole process. She asked me the other night, "So, how does it work? You go in and try on the dress in the wrong size and color. You pay for it and then you get to see it?!?" She's right, it is a strange way to do this. Coming from ordering my custom dress which will be paid in full before I ever lay eyes on it in person it doesn't seem all that out of the ordinary. She decided to think about ordering that dress, but is leaning towards going with one she can try on. I explained that the dress would be custom made in her exact size if she ordered from the boutique and offered to go halves like I had with the bridesmaids. In the end I want everyone to be comfortable, so whatever makes her happy.
All my bridesmaids have dresses in production and 3 out of 4 have shoes. They're pretty much done until hair and make-up time. Phew! Now to really begin pondering the menswear.