Remember the whole warehouse vs boutique discussion? Well it turns out the "boutique" (Wood Chick Studios on Etsy) who took longer because they insisted on using our wording mailed the sample and didn't tell me because it came yesterday. In a pretty envelope with our names in fancy emerald font on the front as opposed to the ziploc bag inside a FedEx envelope the others came in.
Here's how the laser engraved alder invites shipped.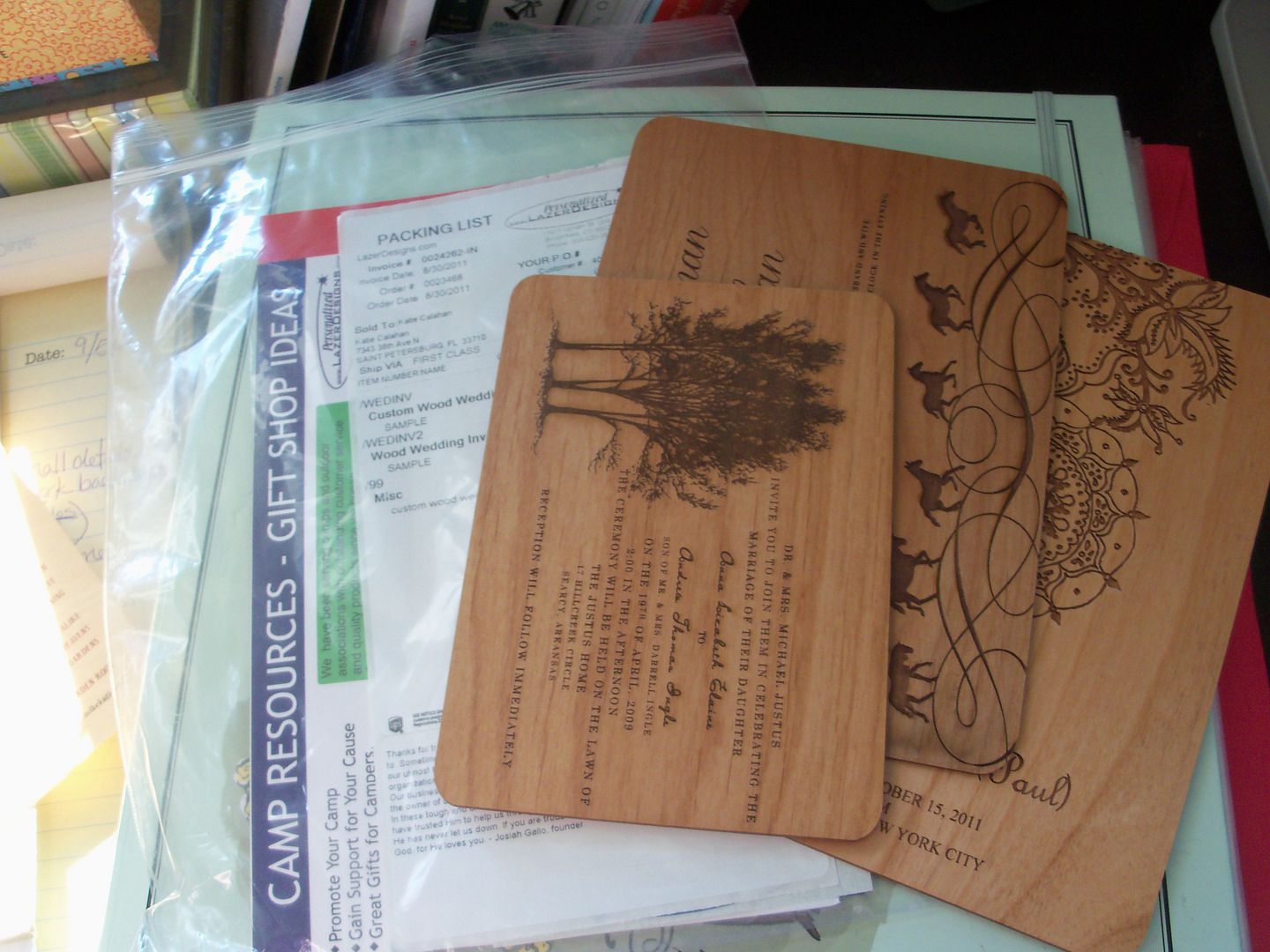 And here is how the other one shipped.
It's another silly girl thing I suppose, but having the birch sample arrive just as it would for the guests was exciting. I know the other place couldn't ship that way because they sent me three samples. I am also aware that volunteering to use our exact wording was a manipulation. Of course I'm drawn to the one with my name on it. Beyond all that are the practical things, however.
Alder in a custom size (7.5 x 5.5)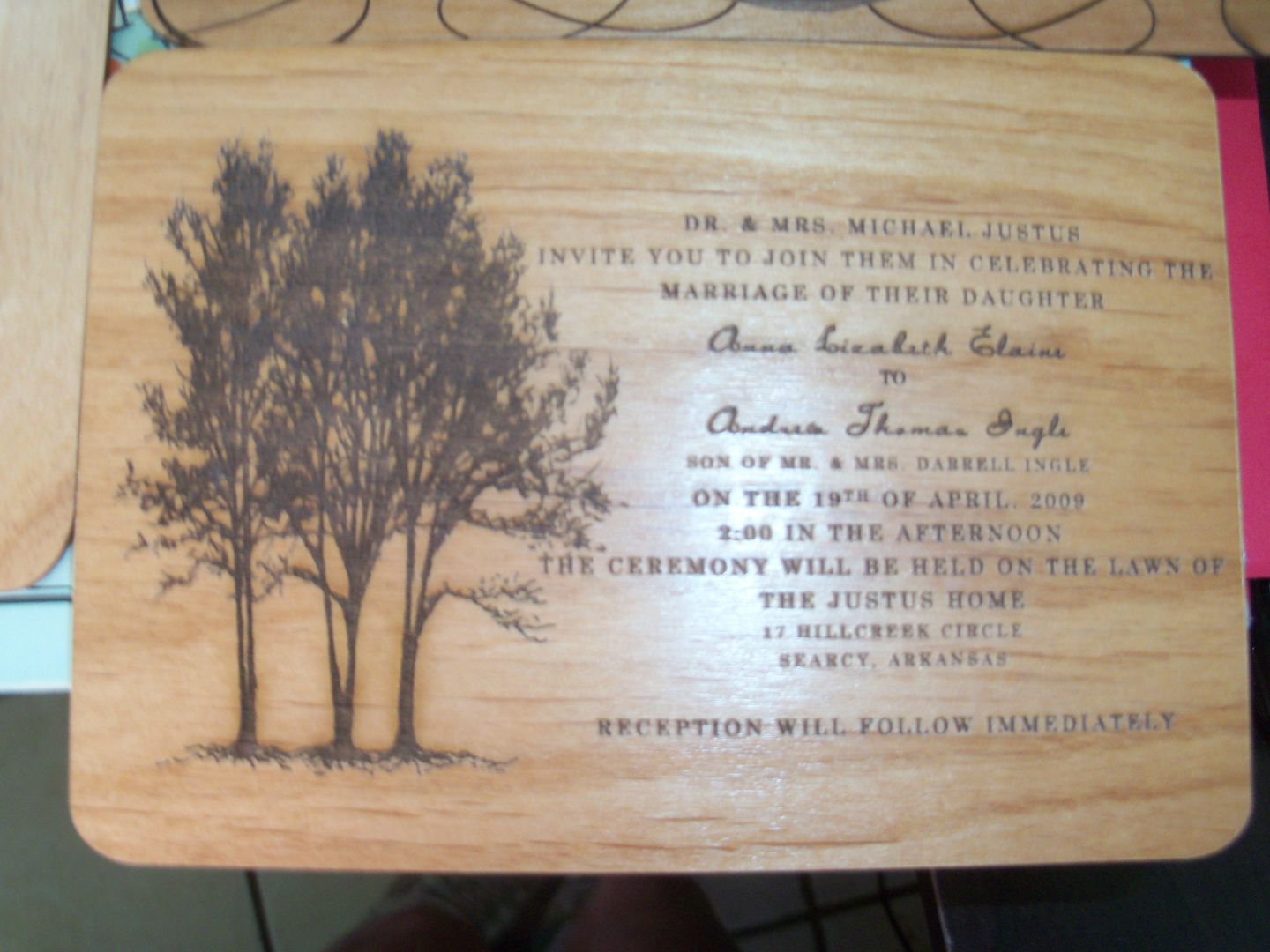 Alder in small size (5.8 x 4.1)
Alder in standard size (6.7 x 4.8)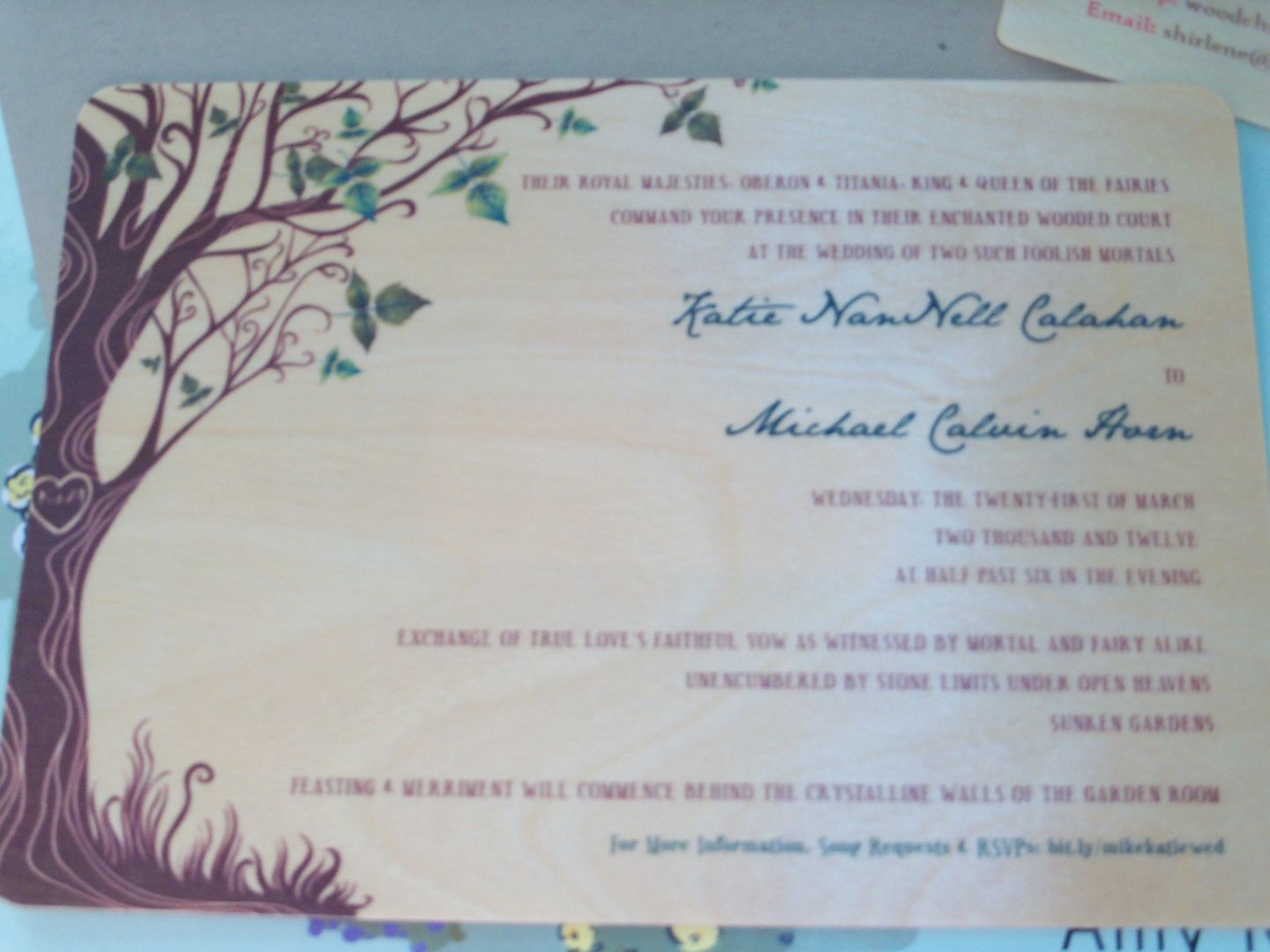 The birch only comes in a size comparable to the standard from the other company.
So, there they are. You can't get the full experience looking and the picture (I'm so glad we ordered samples). They are a very different sensory experience than a paper invitation.
Alder
(From
Lazerdesigns
)
The Yays!
They are laser engraved.
They have a richer wood color. (not veneers)
They smell amazing, like the woods.
They were very prompt replying to all communications.
They did not charge me for samples.
They will completely customize them to our design and size.
The Boos
They do not provide envelopes.
They do not have color.
All that rich, durable wood has a masculine feel.
They only accept orders in groups of 25. So we'd have to order 50 and keep the extras.
They are more expensive. (because they use higher quality materials)
The Birch
The Yays
It's in full color.
It mailed in a regular envelope
I've already seen it with our wording
It's a lighter wood (more feminine and easily mailable)
They send me the sample for free
I can order any number of invitations I choose.
They're less expensive
They include envelopes (although Mike insisted they're not good enough and we'd buy our own anyway).
The Boos
They are very slow to reply (or they don't communicate at all).
The ink is flush as opposed to the texture of the engraving.
They will take longer to produce.
They smell like a tongue depressor as opposed to the woods.
No matter which place we choice Mike will be drawing an image to use so it wouldn't be either of the trees you see in the samples. I do like the "curly willow" with our initials in it. Diabolical as those darn Disney World commercials. Alright, blog fans what do you think? Leave me your impressions and feedback in the comments.