It's been awhile since I went for it and you may think why even write about the place you didn't pick, but I view it as a learning experience. First of all this place was my first choice when I started planning. I'd read about them on the knot and various local blogs. To my mind they were my answer to Ace of Cakes.
I first contacted them through the Contact Us form on their website. Above their form it says something to the effect of we're busy give us time to get back to you. Well, I sent my request on July 22nd and got an email response on July 24th. I thought, "Not bad, I can live with a 48hr turn around." That begun a chain of emails spanning until late August attempting to get an appointment. Never once did I get a list of days and times in the same email. Always a day or two to which I answer which was better and a day (or three) later I'd get a time/notice it was already taken. Not fun.
I got an appointment and they gave me a special time slot because their policy is to start seeing people at 4:30pm (Rush hour over the bridge? No thanks.). Lara and I ventured out that day excited to taste their wares and see their take on my dream cake. Unfortunately, their address isn't listed ANYWHERE. You can find the street and city, but not the actual number. I never received a confirmation of my appointment or an answer to my last question. So, of course no directions. I'd driven past it before, but it had been awhile. Surely, we'd see the sign.
Turns out after driving up and down the length of the street for too long not to be irritated and leaving 4 messages (2 from me, 1 from Lara and 1 from another bridesmaid) asking for directions that all went to directly to voice mail, it turned out they no longer have a sign. Awesome.
She was incredibly welcoming despite our tardiness. We got right to work on the design.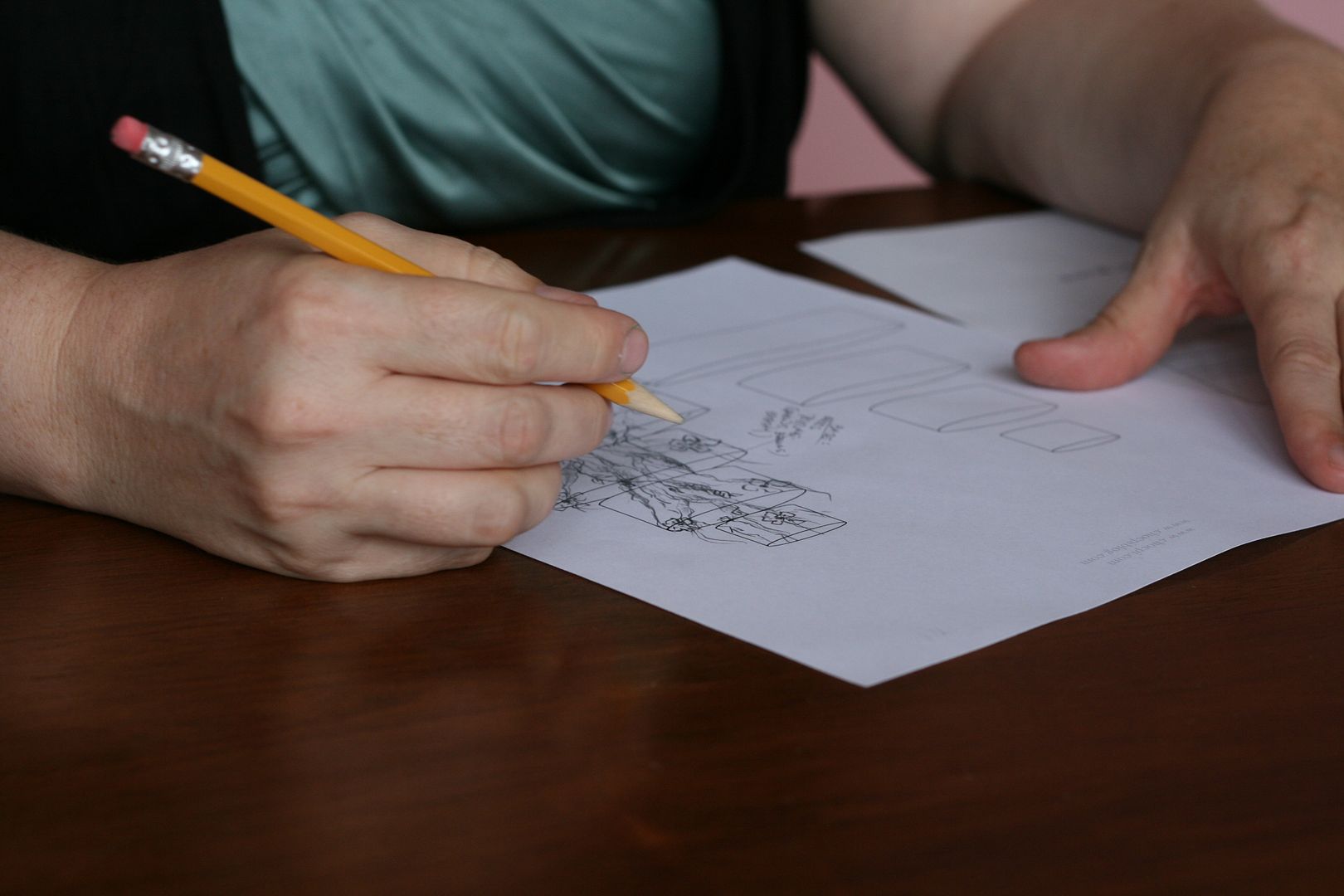 She envisioned a low relief tree on the face of the cake. The rest of the layers would be the texture and colors of moss. The tree would have a door set in it and a vine growing through it. She also added a few black and white anemones to some branches. I thought she really listened to me and completely understood the vibe of the wedding. She (like the other baker) has a fine arts background. She seemed enthusiastic about the idea of my cake.
After mui, mui design talk we moved on to the tasting part. We were off to a good start because none of the choices were neon green. I even discovered in the paperwork I took home under flavor it said "Mint chocolate. NO GREEN." Somewhere there is an army of brides who want green cake. She presented two options for our flavor and a sampling of their other options. She wanted me to see what else they do.
The first option for my flavor was made with fresh mint and a chocolate ganache. The second option was made with spearmint oil and white chocolate. I must say before I critique anything, their cake was better to the other place. Very delicious. She did admit she doesn't eat mint due to an unfortunate incident as a child. So she didn't taste the cake and as a result the mint was too strong and the chocolate was too subtle. I preferred the white chocolate option to the ganache hands down.
Thoughtfully eating cake is something I could stand to do all day. As for her other flavors there was a raspberry one I enjoyed and by far my favorite was something called Exotica which had pineapple, passion fruit and mango. Oh, boy do I need an excuse to order that flavor! Yum.
In the end I felt they were disorganized, slow to communicate, hard to find, far from the venue and out of our budget. Mike and I agreed it was better tasting cake. Micheal wasn't excited by fresh mint because it can't be evenly measured and was completely disturbed by someone who doesn't like mint making our cake. Beyond that he pointed out that her design was only pretty from the front. I get this exclusive vibe, maybe it's the no sign thing. I don't feel like they'd work with me and be there when I had questions.
We made the right choice.