My first love was this beautiful band I found on Tiffany's site. They called it a swing ring and wanted almost twice what my car cost for it. I found the same band at Robbins Brothers in California for a much more reasonable rate. That was years ago now. I've been Googling for months looking for that band or something like it.
Last night I found this on brilliant earth. It's beautiful, but out of the budget. I do feel much better that it still exists.
What I really want at this point is alternating diamonds and emeralds. Something different enough to suit me and match my engagement ring. I have a beautiful natural round cut emerald in my engagement ring. I saw a lot of pretty but not right rings until last night when I found this: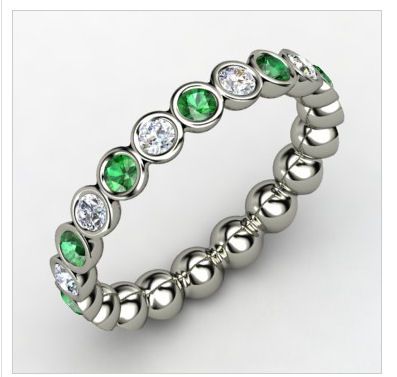 I LOVE this! I am sold on everything, but the price. I want to find this setting maybe with lab created emeralds and try it on. I really love it. Back to my search...