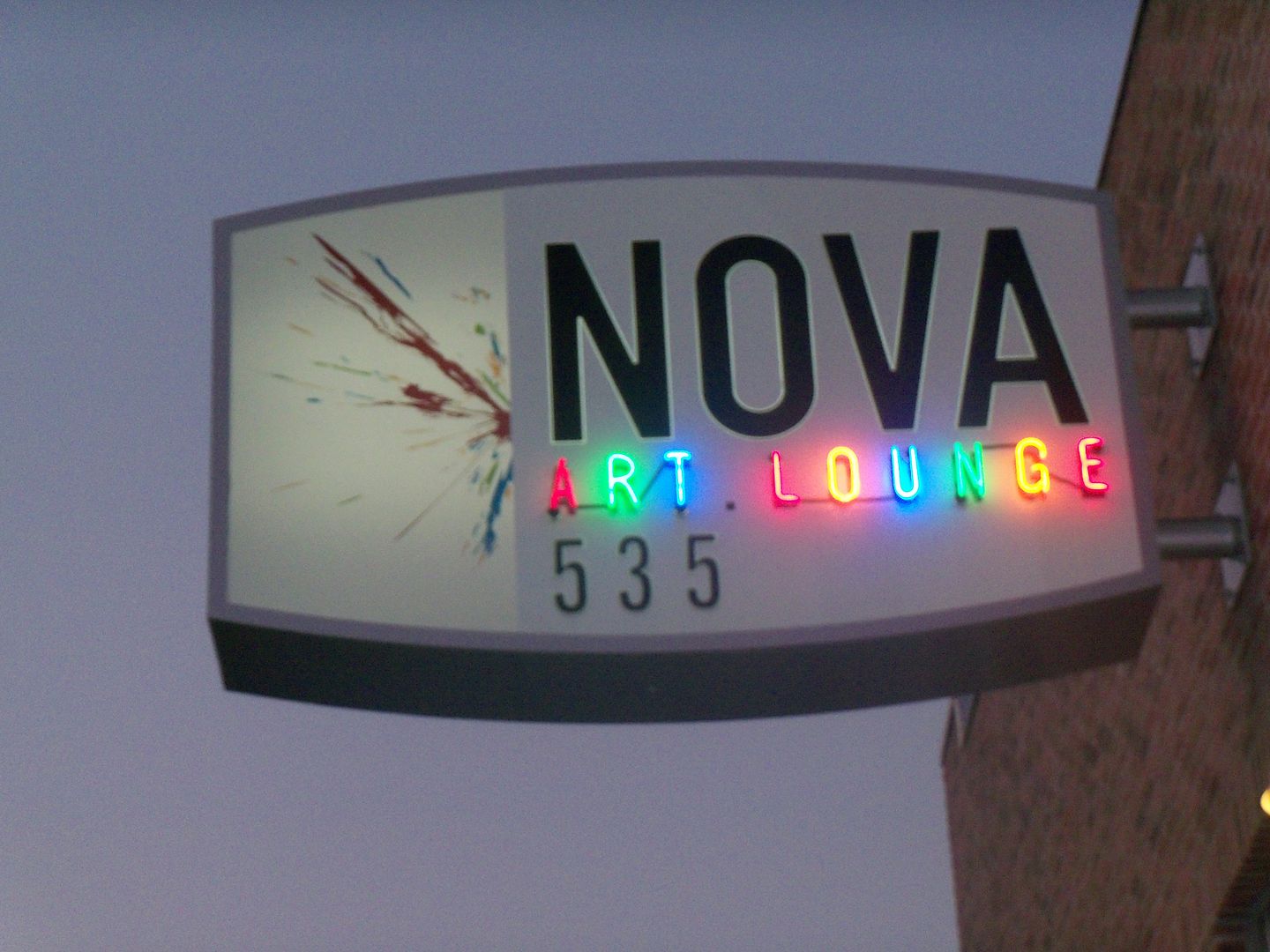 In the end it was a mother daughter evening, which was great. We were the first ones in the door as the event began. I liked this a 1,000 times better than the bridal shows at convention centers I've been to in the past. First of all, I have always wanted to go inside Nova 535 and it didn't disappoint. Secondly, I wasn't shoulder to shoulder with thousands of strangers unable to hold a conversation with anyone over the din. I wasn't squashed up against vendors booths I wanted nothing to do with or trying to crane my neck to see what the line was for. Thirdly there were cute waiters passing amazing h'orderves and a cash bar. Much better than the usual bridal show fare. They had one called the "fire and ice" that was coleslaw (which I don't normally like) and seared peppered tuna that was by far my favorite. I don't think I tried anything I didn't like all night.
I learned all about aqua beads.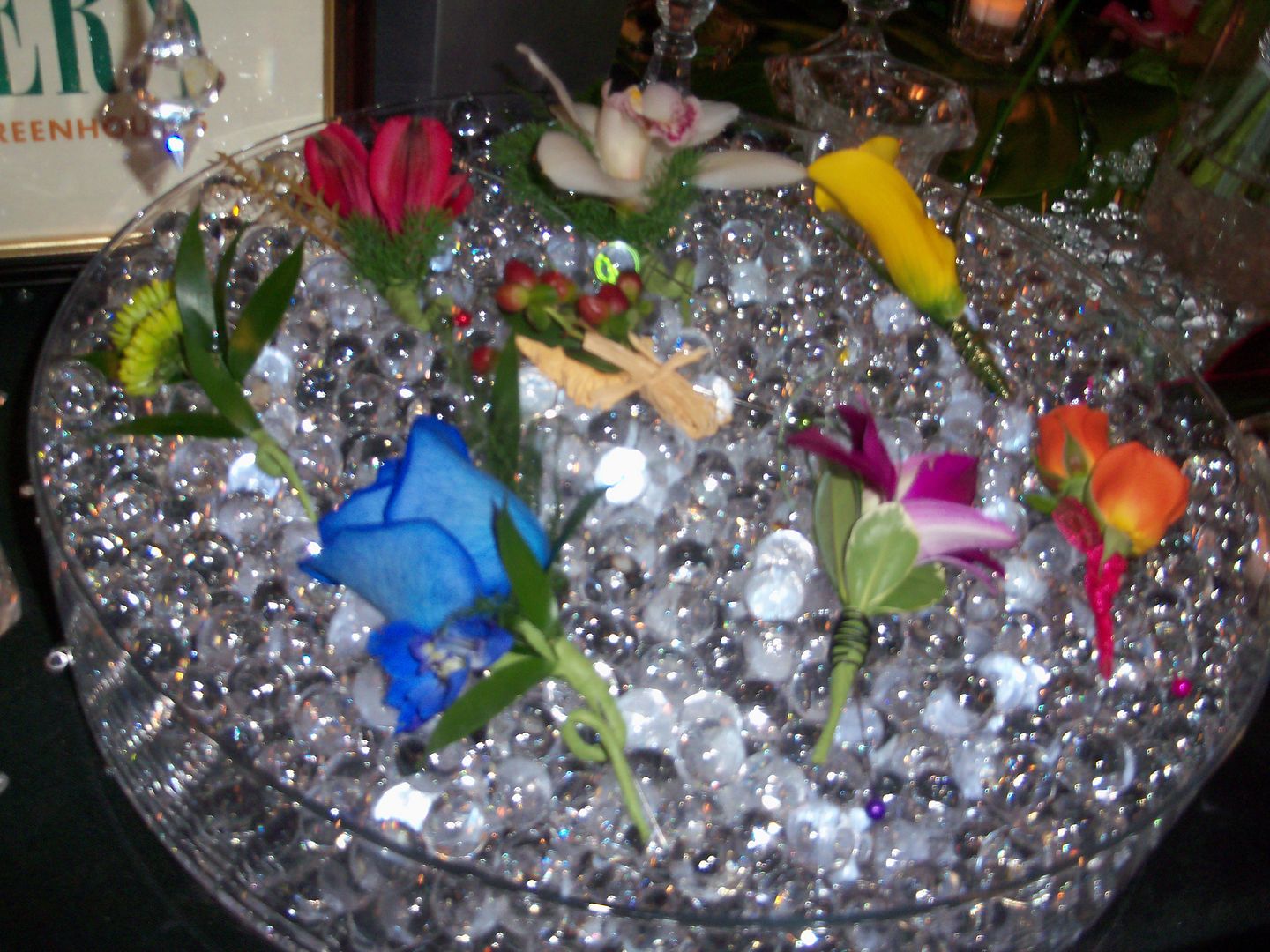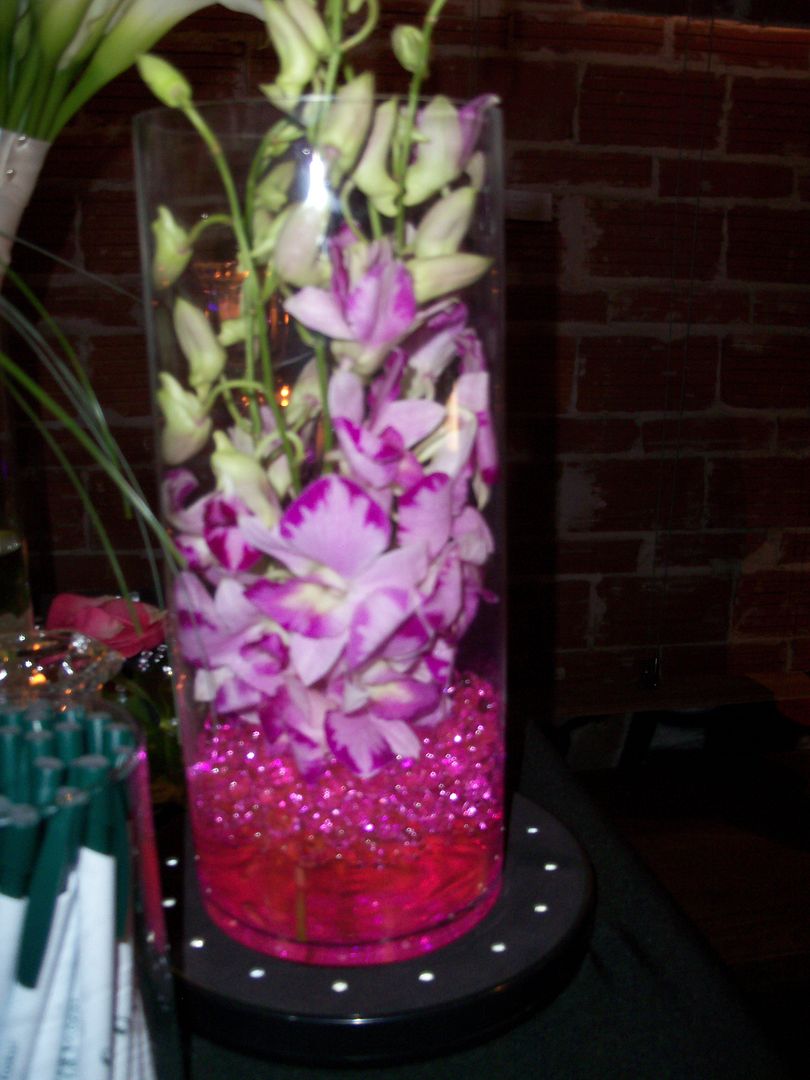 I couldn't stop touching them! They're squishy and cold. Apparently, they are made of silica gel like the stuff inside diapers. They soak up water so if you put them in colored water they're colored, like the pink ones in the bottom picture. That's the kind of material that gets your wheels turning. Neat-O. Although, I don't think our wedding has a place for such a thing I did tell my groom and head of reception decor all about it. We'll see...
Speaking of flowers, this display was so me (except for the scale):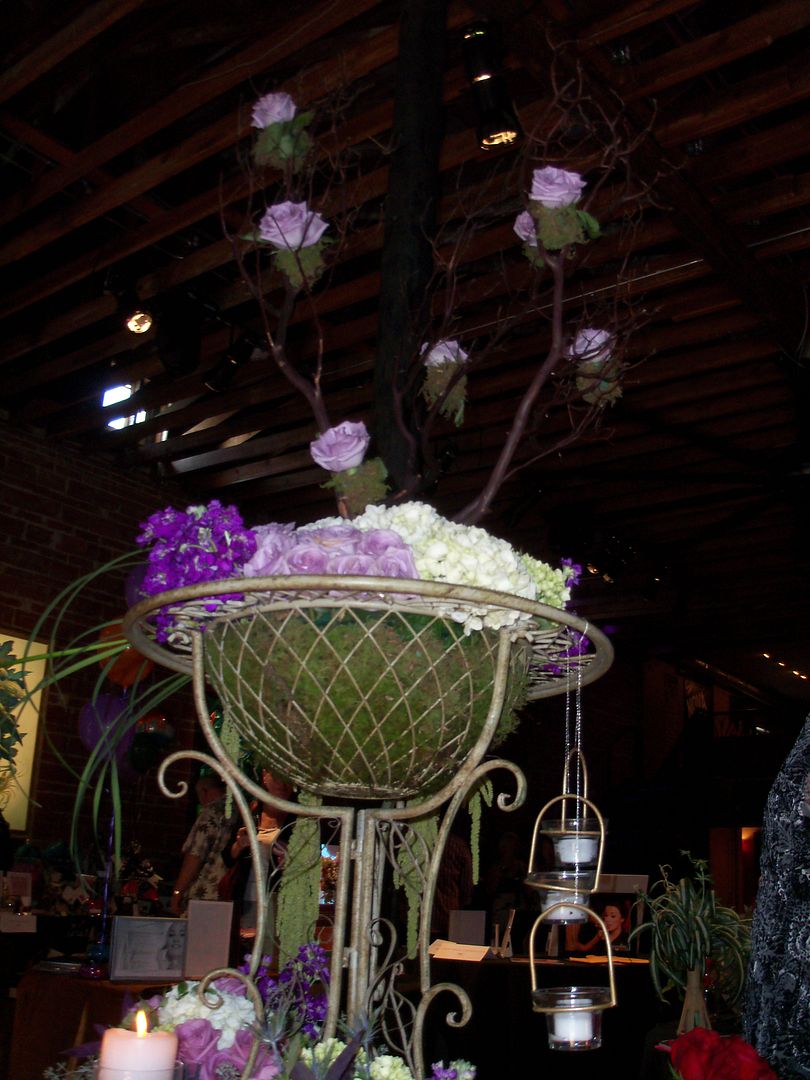 Tree branches (although they aren't willow she told me what they were, but I can't remember), sheet moss and sterling roses? She was reading my mind. This display was by a place called The Bride's Bouquet. You should have seen her face when I correctly identified sterling roses and wanted to know what kind of moss she'd used. I talked with her for a long time. Apparently, they had just done a Love & Science photo shoot at MOSI (can you imagine?!?) and she had some of the flowers with her. Am I a total nerd that the very idea of that thrilled me beyond belief? Here's me holding the amazing boutonniere
It has standard wire and large gage bare copper wire in it. For flowers they used echinacea, one small orange orchid and I'm not sure what the other flower is(I wasn't able to Google it, but if you click the link there should be a way to see pictures from the shoot) all wrapped in fine silver wire. I loved it, so she let me bring it home for Mike. Nice lady.
Speaking of Love & Science I was so taken by Nova 535 I kept imagining the wedding we'd have if it was our venue (which it very well could have been if we hadn't decided on spring). I see a fifty's theme. Short or calf length wedding dress. Probably the exact one modeled at Nova tonight by White Closet Co
Breath taking, isn't it? Sigh. Same bridesmaids dress, but in a more feminine shade like lavender. Groom and groomsman rocking a Buddy Holly style 50's nerd look. We could use our debunked scientific discoveries table names. Mike would wear that crazy boutonniere. It'd be a great party, twisting the night away! It would still be very us. Just not as romantic as the theme we're doing. Double Sigh.
They had wedding planners, bakers, stationers, a calligrapher, a spa, a caterer, a DJ, Limo rental service, photo booth, a boutique, photographers and a hair and make-up service. It was a good group I thought. Just enough vendors to cover the spectrum without being overwhelming. Although, they also had a gym and I have to say that really bugs me. Whether there are girls looking to join a gym pre-wedding or not, diet programs and gyms are NOT wedding vendors. It make me sad to suggest everyone needs them. We wouldn't have engagement rings if someone didn't think we were beautiful just the way we are! Give me a minute to climb down from my soapbox or on second thought I ought to stay up here so I can reach my groom.
Hands down the most fun I have ever had at a "bridal show". I thoroughly enjoyed the food, music and general atmosphere. I even relly liked some of the paintings they had up. The art changes every four months (but they're careful to keep it "bride friendly"). I will now spend the rest of my existence coming up with a reason to rent Nova 535 for an event (I doubt, however, that it will take that long!). It was totally worth venturing out on a week night.