So, I try to be open minded and avoid the aesthetic manipulations of corporate America, but darn it I'm just such a girl sometimes. Of course I know that just because it's not a "wedding" vendor doesn't mean someone isn't the best choice. I also know quality of product and customer service are huge factors. Bigger factors than a pretty website.
That's all very rational, but I'm a snob. I live with a programmer. First impressions are important. It's like walking into a concrete floored CostCo style warehouse vs a potpourri scented, velvet cushioned chairs boutique. I want to deal with the people in the pretty store based on first impression regardless of whether they actually give me the best deal or service.
I Googled "wooden invitations" and the first hit on shopping was a place called LazerDesigns. The image was an alder wood invite so I clicked and found myself in a warehouse of a website. Tiny unembellished text, pages cluttered with information and no artistry. I left after glancing out at price info. I found an Etsy store with an adorable little logo and name. Now I was in the boutique! They only do wedding invitations and they provide fancy envelopes. I talked to Mike about both places (being desparing about the first), but he got excited about alder wood versus the lighter birch.
I begrudingly agreed to order samples from both places to compare. I emailed lazerdesigns and had a response the same day. They we very friendly and accommodating. They didn't charge for the samples and had them shipped out the next day. I was floored! I was even more impressed by their quick arrival and how pretty they were. I mean, wow. They continue to be friendly and prompt answering my subsequent questions too.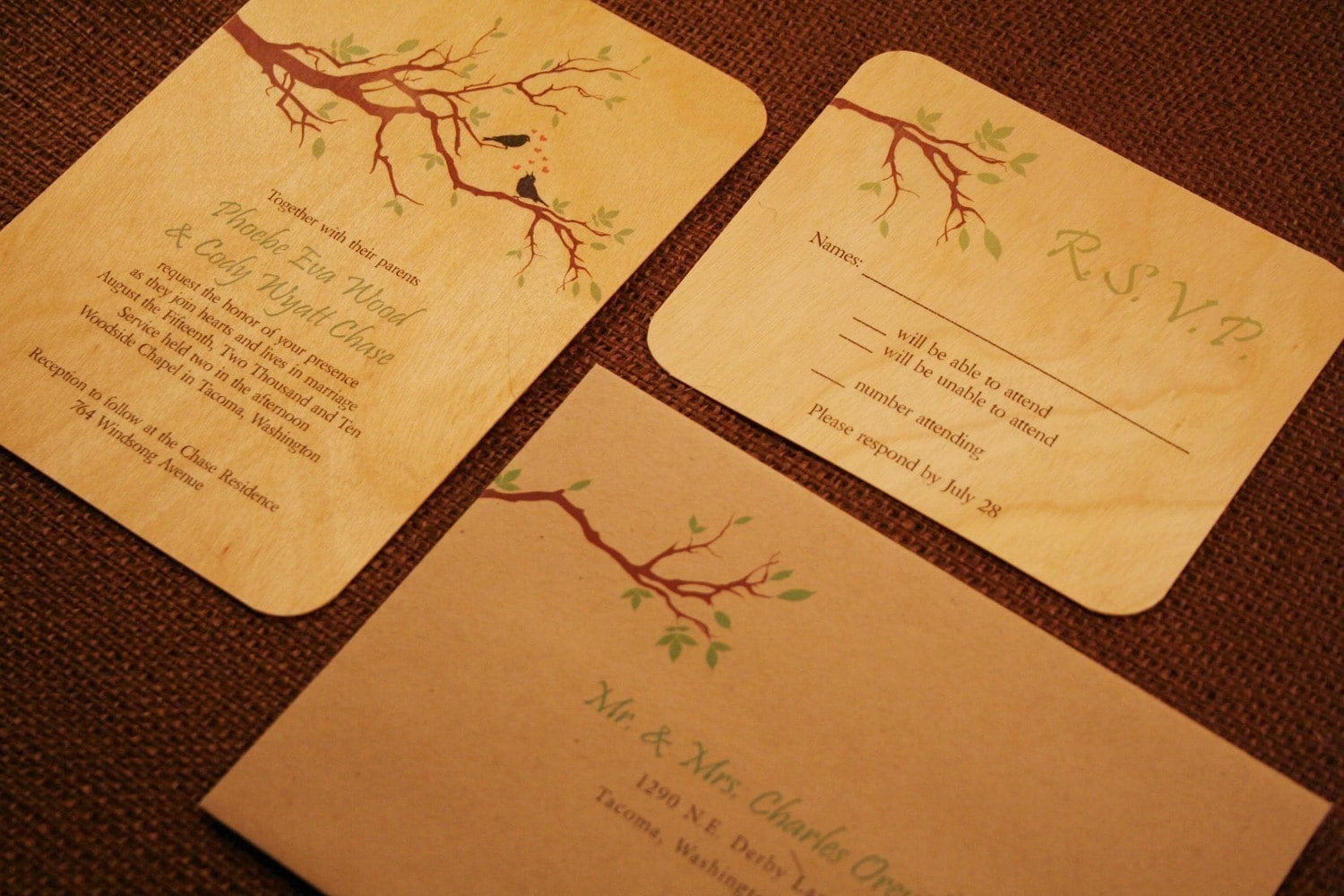 In the meantime I requested a sample from the Etsy store with the cute name on 8/30. I had a response on 9/2 asking me to pick a design and give them my exact wording so I can see how it would look. That was exciting. I poured over wording and replied on the 9/5. There was a holiday weekend and they're obviously a busy shop, but I've still had no response. I'm not sure whether I'm supposed to pay for the sample at a separate listing or if they already been shipped or even they've even received my info.
Mike also prefers the laser engraved design to the painted on and heat sealed ones he's seen online. I'm still pulling for the place with the cute name and I can't possibly decide until I've seen something in person. I am absolutely floored by the difference in customer service so far. I'm a little nervous about how much longer hand painting them will take if they have a week turnaround on messages and I have no idea how fast shipping will be.