As I've had reports of invitations arriving in at least three states I think it's safe to assume they've reached their destinations. Which means I can post pictures and talk about wording!
We started with the willow tree from the sample and had our lovely invitation maker (wood chick studios) add a sleeping figure under it. She put our initials in the tree without being asked. So, sweet. Then we went through several different fairies before we landed on those two. I love that they look like they're dancing (and up to something). Then we add a bit of ivy creeping up. The graphic was tricky, but far easier than the words.
I used Martha Stewart's invitation wording guide, following the guide for when the bride and groom are paying. I normally stray from formality, but I liked the look of some of the things written out in full, since our invitation was coming from a king and queen. It's easy to get carried away when Shakespeare's your muse. Our original wording barely fit when it was just a tree. We were very verbose. We described the reception room in flowery prose and wrote out their majesties on the first line for example. Slowly, we pared down the words to what seemed necessary.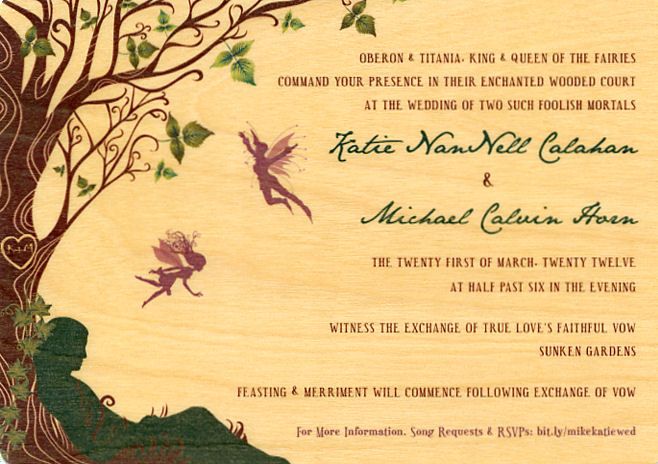 It says: Oberon & Titania, King & Queen of the Fairies Command Your Presence In Their Enchanted Wooded Court At The Wedding of Two Such Foolish Mortals Katie MIDDLE NAME LAST NAME To Michael MIDDLE NAME LAST NAME Wednesday, The Twenty-First of March Two Thousand and Twelve TIME Witness The Exchange of True Love's Faithful Vow PLACE Feasting & Merriment Will Commence Following Exchange of Vow For More Information, Song Requests & RSVPs: Website Address
I think they turned out great. The response has been good. By response I mean the feedback on the look of the invitations. As far as RSVP responses we've only had a few so far. I'm hoping guests will jump on the website and respond this weekend.