A while back I got a comment from a disabled bride, which isn't super common, but has happened in the past. Generally, they find my blog somehow and send me an email or some wedding pictures. It's lovely. This time it was a disabled bride who blogged through the planning process! What do you know, small world.
I bookmarked the link and didn't touch it for a while. I was afraid to be let down. There are so many poorly written blogs out there. No, I'm not referring to my creative use of grammar or love of run on sentences. I really needed this blog not to suck. I feel awful for ever thinking that now because well...Wow. We're kindred spirits for sure. I found lots of lovely things like this: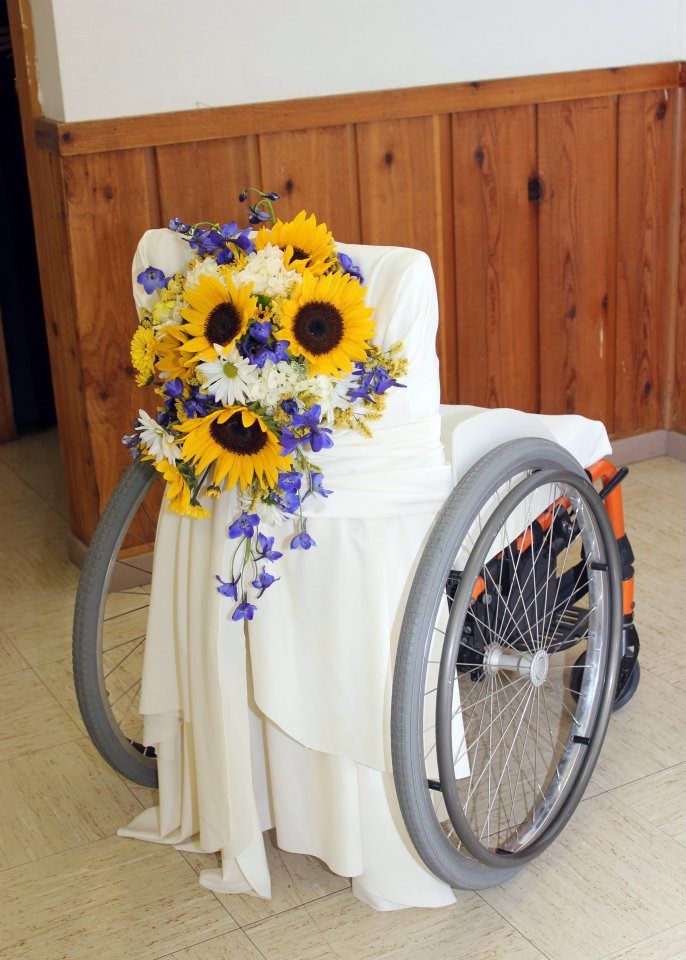 Look at that beautiful draped fabric! I've seen a lot of decorated wheelchairs at this point and mostly thought "it's pretty for a wheelchair." This on the other hand, is just pretty. It looks like an elegant chair cover. I don't even mind the big bouquet which I'm generally not a fan of. Maybe, ignoring my chair altogether and hoping I don't need it isn't the best plan. I know if it was all ready to go looking this nice the need would never arise.
One of her most popular posts Should You Hide Your Scars On Your Wedding Day didn't immediately call to me. Lesson learned: don't judge a post by its title. She, like me believes that scars are badges of honor, proof of survival and nothing to be ashamed of.
As a person with a disability I have lots of scars, and I think they are a very big deal, to other people. For me, they are just another part of my body, like my freckles, I don't even notice them, even when they are clearly visible, unless someone is kind enough to point them out. One day at work, I had this crazy idea to wear a skirt and co-worker stopped me in the hall and said in a very loud voice: "You have big scars on your legs, doesn't that bother you?" No, they don't. Scars mean that I survived, why should that bother me? But on the day I choose my dress, I found my self asking my mother how much of the large scar on my back showed? It's a scar I have had nearly all my life, the result of a heart surgery that saved my life when I was just days old. Mom said that much of it was showing and for a moment I remember the voice of my co-worker in the hallway.
She goes on to point out that on her wedding day she will not be surrounded by shallow, insensitive strangers, but by friends and family. It brought me to tears. I think all brides have a moment where they wish they were something different or "more", but he proposed to the woman you are. Beyond that I had a hugely traumatic back surgery not quite two years ago and the scar it left behind is substantial.
I think my distaste for the "zipper" is largely to do with the emotions it brings up. Recovering from that surgery was one of the darkest times in my life. I hurt when I remember it in a way none of my other scars hurt me. I'm proud I came out the other side. It was the "for worse" in our relationship for sure. In the end I made dress and hair choices without consideration of the "zipper", but there was some turmoil over seeing in pictures of my dress fitting.
Well done, Melissa. Thank you for paving for the way for uncompromising disabled brides. Thank you for for sense of humor, wisdom and willingness to share. I only hope my blog touches one person the way yours touched me.