One early reference to a honeymoon is in Deuteronomy 24:5 "When a man is newly wed, he need not go out on a military expedition, nor shall any public duty be imposed on him. He shall be exempt for one year for the sake of his family, to bring joy to the wife he has married." Wikipedia. It's an ancient tradition and not without merit in modern times. Typically it was simply the first month of marriage when things are the sweetest. It became a vacation after marriage in the late 19th century.
That's honeymoon history, now for a brief Katie and Mike history. Right before I moved in we drove from California to Florida with a 5yr old Isaac. A few years later we took a cruise to Mexico as a family (the kids were 1yr and turning 8yrs). That's it as far as vacations go. We have never been without the kids longer than overnight a few times. So, the prospect of a vacation just the two of us is amazing.
We originally, waaaay back in 2008, discussed a honeymoon in a cabin in the mountains. When we got started planning again I was concerned about my physical limitations bumming me out. I really wanted to go white water rafting when that trip came up and I'm fairly certain my recently fused spine makes that impossible. Mike's not good with crowds so things like a Disney World which I'm always up for would be stressful.
I didn't want either us to be stressed on this trip because who knows how many years it'll be before we travel alone together again. We decided tropical was the way to go. Either an all inclusive resort or a cruise was the way to go budget-wise. We knew we wanted some privacy, meals provided, and activities for each of us. I had seen a special on the travel channel about Disney Cruises. I thought "someday...".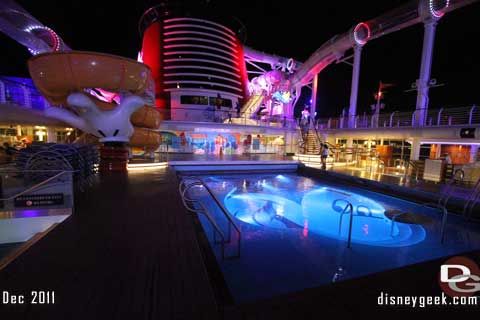 Well, it turns out cruising on a Thursday is cheaper than a Saturday and they had a boat, the Disney Dream, leaving the day after our wedding. The stars aligned and my someday came. Mike gets his amazing water slide, I get the Disney experience (& and some honeymoon fuss) and we both get a nice room with a balcony. We're both thrilled for lots of yummy food and two days on their private island. I can not wait. I'm so excited for this trip.
Some of my friends and family have been confused about why I would choose a Disney cruise without the kids. First of all most of my Disney trips were as a single girl in my 20's and second Disney has a quality level you don't get elsewhere. It's going to be fabulous.