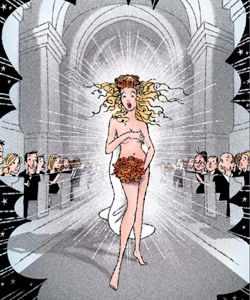 Today officially marks the start of the MONTH OF MY WEDDING. Whoa. I started having wedding dreams nightly about a week ago. There was the one about my sister hanging her dress on the back of her bedroom door and flying here without it. There was another one where I lost my sister after picking her up very late from the airport, STRESS. I already told you about the make-up trial in my wedding dress.
I had a strange one where there was a fall festival going on. I was manning a booth or something. It was in the neighborhood I grew up in, well the dream version. Even in the dream I thought this was strange. After a while I decided to wander around maybe stop into some shops. I went into the bridal store. I was browsing the dresses in there plastic bags and thinking how pretty they were. All the sudden the sales ladies were saying nasty things about the "bumpkins" in this town..etc. Then they turned their attention me. It was a bit like the scene in Pretty Woman at some point I suddenly remembered I already had a dress and walked out.
The other night Riley woke us up at 3am. After we sent her back to bed and I tossed and turned for a while I dreamt Riley woke us up. Except in the dream I heard whispering in the house. When I expressed concern about it Mike said not to worry, but it was the middle of the night and I was worried. I discovered my friends from California in the hallway and I was so excited. Then I was concerned because I was supposed to have more time. Just what was going on?
The house was different, much larger and I heard someone say "should we tell her?" That's when I was taken out into the yard to discover a gorgeous wedding set-up. It was breathtaking, David Tutera quality. Just like that guests arrived costumed performers starting performing. Lights twinkled in the trees, but I was in my pajamas. It was the middle of the night. Then I heard someone say "we have to help Katie get dressed." I was so relieved to hear it and anxious to match the beautiful surroundings.
That's when I woke up.