Bridal shower day! I do wish we'd planned it for later in the day since my bridesmaids partied all night with me and then got up early to set-up the shower. Up at 8am after a bachelorette party to pick up fresh canolis and such. My girls are rock stars. I got up at 9am which is sleeping in when you have a toddler. I had coffee and got ready with my unofficial bridesmaid (and awesome henna artist). When I arrived I was greeted with a crub side canoli.
I waited to do both my bachelorette and shower until the weekend before the wedding so my sister (and only out of town bridesmaid) could be there. It was an absolutely beautiful March afternoon. Everyone brought a dish to share and the girls invited everyone to wear the "bestest maddest hat". I think only three people came sans hat (we provided some) and most people really did a wonderful hat decorating job! I loved them all. I love a good party theme and this one was a winner for sure.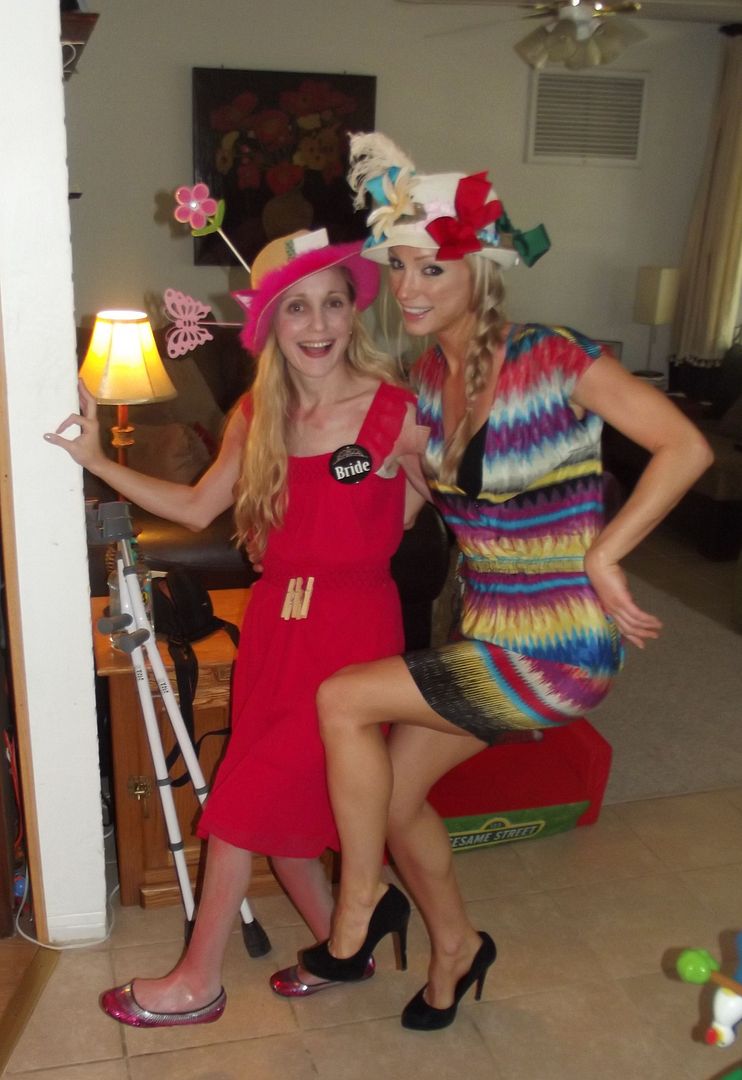 The food was amazing too. Aside from fresh canolis there was a gorgeous wedding cake shaped teacup cupcake display. Each teacup had a cupcake with an Eat Me sign in it. The girls printed little labels that said Mike & Katie 3/21/12 for the bottom of each cup (which they collected at thrift stores). The teacups were favors for the guests to take home. Lovely. There were tea sandwiches, mimosas, tarts and so much more. The only thing we didn't touch was the hot tea, it was just too warm. We ate outside at tables with mismatched table cloths under the shade of mismatched umbrellas. It was very wonderland.
It made for a very jolly atmosphere. People made amazingly sweet toasts I teared up a little, but mostly we laughed about how lost Mike would be without me. We played that clothes pin game where you couldn't say the grooms name and later you couldn't say the bride's either. My mother-in-law took the prize for that one, a tea pot. Before we went inside we played a game where armed with Mike's answers to a set of questions the girls asked me to tell them things about Mike. When I got one right they clapped. When I got one wrong I had to chew a piece of gum. Blah. I ended up gagging on the wad of gum and starting over. I think I got half of them right. I maintain that some of his answers were wrong, though.
That's me with my bridesmaids! Nice party girls! Don't worry we toasted our hostesses as well. After everyone was full we moved inside for presents. The very first one was from my mother-in-law. It was Mike's grandmother's handkerchief and beautiful card. That's when the water works really started. I love my new family. My mom also gave me her grandma's handkerchief with the pin my mom wore for her something blue on it, so I will have several generation of women with me on my day. I got clothes and a hanging travel bag for the honeymoon, some lovely cards, towels and a shoe organizer among other things.
The best part of gifts was my wonderful bow bouquet. I had been so looking forward to having one. Lara made it from all the ribbon and pretty tags and then made tissue flowers to fill the gaps. Isn't it perfect? Just like my shower, amazing. What a great day. Now for a nap!