Apparently, shopping for ties is a bit like shopping for a wedding dress in so much as most of them are entirely unappealing. Aside from the uglyness factor I needed 6 matching ties on a budget. Not an easy feat. We settled on cream colored dress shirts and brown pants for the boys. They'll wear whatever shoes they please and no jackets. To unify them we wanted a really cool tie.
I was set on something with a pattern from the beginning. I was leaning towards a paisley print at first, but really the goal was something fun and "Mike", but in appropriate colors. During my research (and after many fruitless & exhausting trips to stores) I stumbled on an Etsy store that did screen printing on ties. I was aquiver at the possibility, but Mike was dismissive and I soon forgot all about it.
Until I logged into Etsy looking for something else and a tie that happened to be on the featured items of the homepage caught my eye in a big way. Mike was instantly receptive and color discussions began. The tie is by Cyberopotix Tie Lab. The design is called Apollo Cockpit
I contacted the seller right away. Bethany was quick to respond and very informative. Since we need 5 silk ties and one bow tie (which only comes in microfiber) in a possible color combo of fabric and ink we couldn't find a picture of it in the gallery we ordered swatches. It was about $8 for two swatch cards one with silks and one with microfiber and they applied inks directly to the fabric at our request as well. Because they cut up actual ties (awesomeness) it took a few days to get those. It was a good call because we could see the color against his shirt and in sun and natural light too.
We ordered 5 silk neckties in emerald with antique brass ink and 1 bow tie, for Isaac. We even received a wedding discount on our order. They were ordered on Friday afternoon. I received an email Friday night telling me they'd ship in the morning. They arrived today! They are beautiful.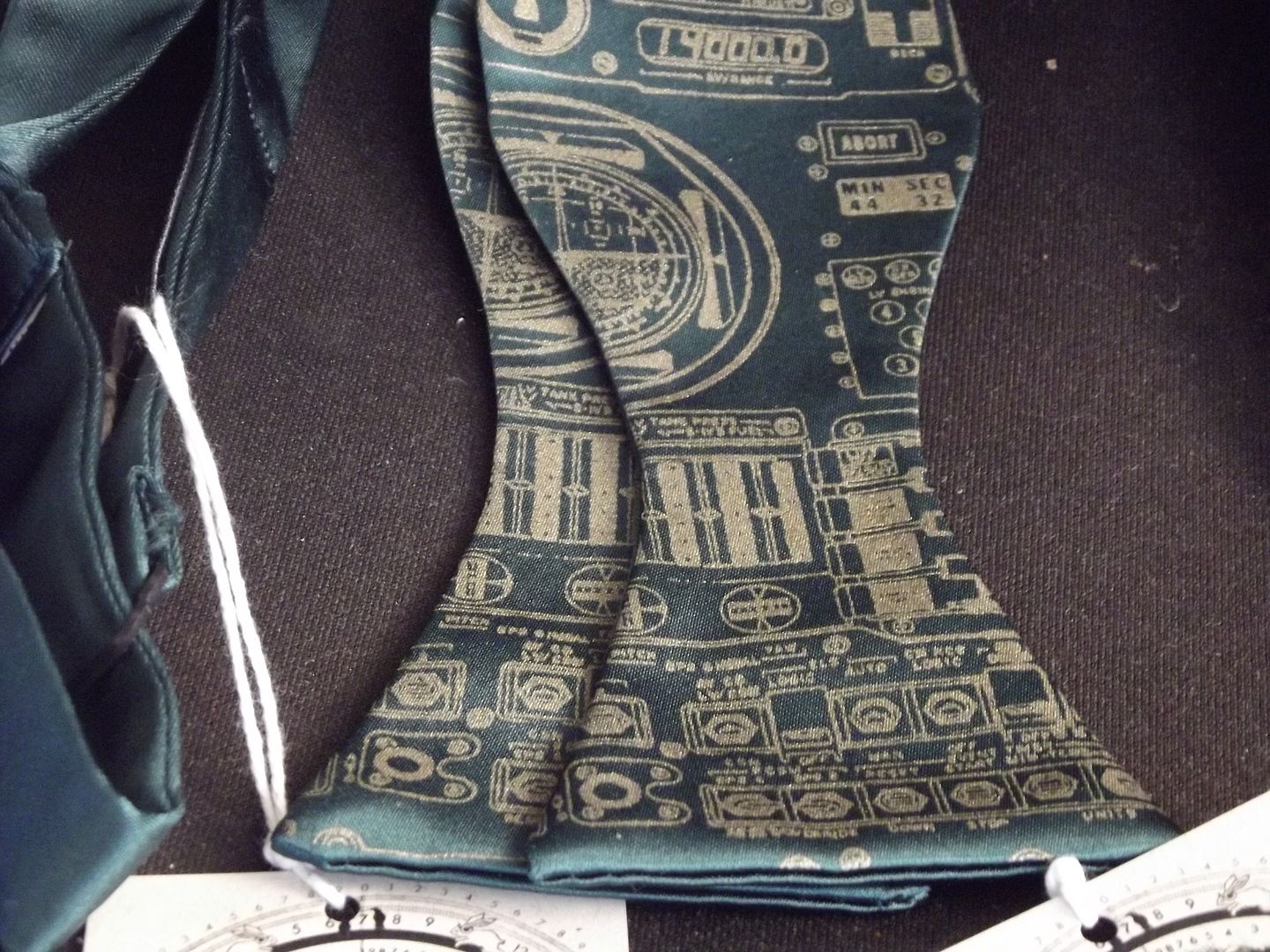 Mike and I agree the colors are great! There's something so elegant about a silk tie.