It's a busy one! I got us 90% packed for the honeymoon, finished up the favor tags and kissed Mike and the kids goodbye at noon. I donned my "Mrs. [his last name] shirt" to go setup at the venue. I loaded my car and dropped Miss Riley off to nap with her flower girl counterpart. Boo's mommy gave me these:
I can't say it enough, my bridesmaids are awesome. I got trail mix and he got wasabi nuts. When I arrived at the venue Lara was out front ready to help me unload. After the first trip with arms laden we discovered they had a cart. Always ask, my DIY bride friends. We got my car and my cousin/day of coordinator's car unloaded in two trips with the aid of the cart.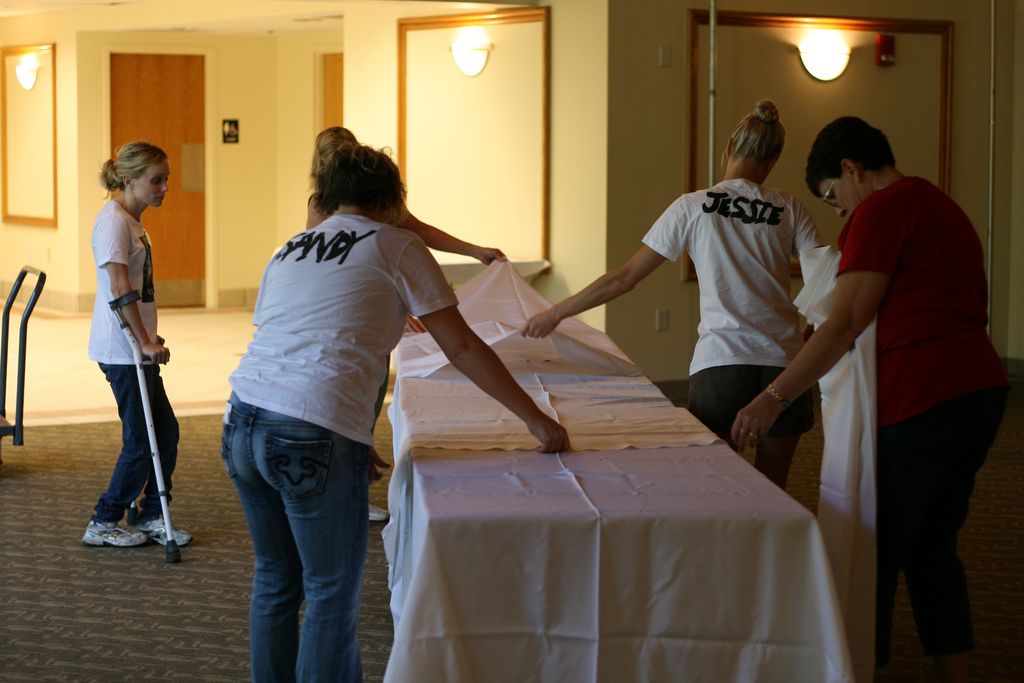 Set up went pretty smoothly we had quite a few pairs of hands. The venue setup tables according to my floor plan and the linen company draped fabric first. The linen company was great, I was thrilled with their work. The guy from the venue disappeared when we were one table shy and quite a few chairs. Tracking those down was a slight annoyance. The caterer had the table cloths delivered so that was the first task.
Take it from me, bring a hard copy of your seating plan with you to set up. Luckily, people accessed their email via their phone and we got things sorted. I also left the table names at the house so we put post it's down so we knew where things went. That was the beginning of an important lesson (especially if you have creative and elaborate plans) have a simple plan b. So important to your sanity (and everyone else's).
Then when we'd done all we could do we needed to rehearse the ceremony. Those 4 hours we had to get set-up before rehearsal flew by. After a brief rehearsal (we started late) everyone went to change for dinner.
We clean up nice don't we? I passed out the ties and found one missing (eek!). My father-in-law selected the perfect restaurant for the occasion. It was called St. Pete Brasserie. They were very good to us and the food was amazing start to finish. It was a lovely evening. I couldn't have asked for more.
After we left I was kicking myself for not thanking everyone with a toast, duh! I was too busy eating and drinking. Now, "I'm getting married in the morning..."