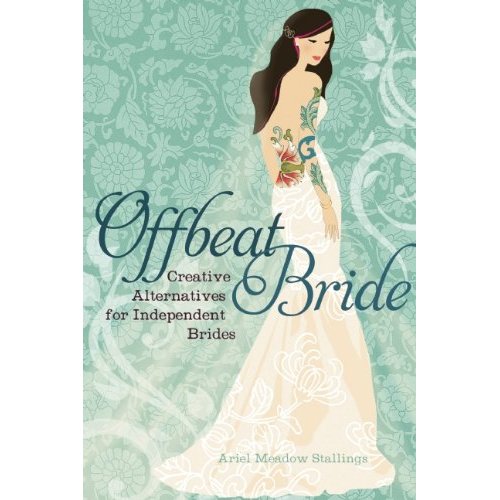 I found a good website or two on recommendations of been there, done that brides. One of which is Indiebride it's lovely, but low traffic message boards which bums me out. There is also the big bad Offbeat Bride. I found this site with all its offbeat wedding photos, articles from (gasp!) disabled brides and interesting topics for discussion, thrilling. While I was browsing Amazon for some useful wedding books I found the book! Offbeat Bride: Creative Alternatives for Independent Brides looked interesting, so I read all that the look inside feature allowed. I had to have it!(And God Bless the internet!)
The author of the book went on to found the site and now had become one of my personal heroes. It was so nice not to feel alone in not wanting to blindly accept all wedding traditions. On the other hand it was nice to hear that it's ok to want what everyone else wants now and then too. It's all about what's right for us. Phew!
A few weeks ago, I got an email advertising the first ever Offbeat Bride(OBB) web course called Bridechilla. I was in. First, the clever name was appealing and something I aspire to be. Second, it was taught by the woman herself and her second in command. Third, more worksheets! Fourth, a community of offbeat brides to support and understand me. Fifth, forced weekly "me time" centered on my current favorite subject. Sixth, more blog material...
Tonight was night one of our first week called: Working with your partner to find your wedding's vibe. There was a "questionnaire of awesome craziness" that Mike I were both supposed to fill out separately and then discuss our answers. My stomach sank, I'm used to being teacher's pet and now my homework was contingent on Mike, on a Monday!
There were obviously wedding related questions and then there were seemingly random quandaries. Stuff like "If you could have anyone decorate a room of your house, who would it be, what room, why?" or "You have a bajillion dollars. What are you going to do with it?". I found it fun and went with my gut for the most part. Mike stalked off after dinner for half an hour and came back with responses spilling off the page.
We are very different kinds of students, romantic partners and human beings. What I really learned was that we had hit on and grown a wedding from our common ground. Nature, poetry, magic, beauty. From there we differ Mike would be fine doing that alone and I could add another 50 people to the guest list with no trouble at all for example. Even though the goal wasn't to match answers (and we didn't) it made me laugh at how well we could predict each other response. That's what we did for most of our discussion about the worksheet, laugh. It's a good sign I think.
The first of our weekly video chats was great. We discussed finding our wedding "vibes", but also overcoming our guilt at not appeasing other people's emotional wedding baggage (hallelujah!) and different input languages. I think Mike is a visual person and I am an auditory person. They really emphasize putting your relationship first during the planning process, not something I've come across anywhere else.
I'm so excited for the weeks ahead and tomorrow's video chat with the woman herself.