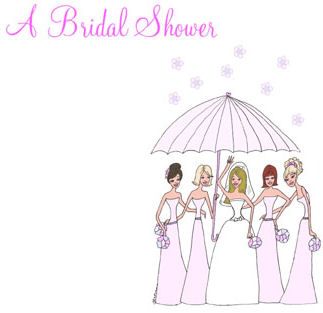 I don't really get bridal showers. No judgment, they sound fun. I read that they started as a means of making up for a dowry when Daddy didn't approve of your fella. That makes sense; shower your friend with gifts so she can be with her love. It's even pretty sweet.
I guess I haven't been to that many of them because I'm just not sure what to expect. I'm very excited to have one and include all the ladies in my life in the pre-wedding fun. One of my bridesmaids informs me I should register for the shower. We chose not to register for the wedding, but I understood what would have been customary for a wedding registry. What does one register for shower-wise?
I requested that we do an activity, like a craft or something. I felt it shouldn't be all wedding-y. I have been rebuffed a few times over for this comment. They're not wrong in that 1)It's not up to me (my bridesmaids call the shots here) and 2)It's an event to celebrate my bridal status and therefore it's unreasonable to decree such a thing. I agree, that I was unreasonable in my request, but it came from a good place. I wanted everyone to feel included in the fun. I was trying to make it less shower-y because unlike my baby shower I'm more worried about the guests than myself and what I need.
This is my official surrender to shower-y-ness. If you girls want toilet paper wedding dresses I'm game. I'll submit a guest list when the time comes and keep out of it otherwise. Now let's have registry suggestions, please blog readers...