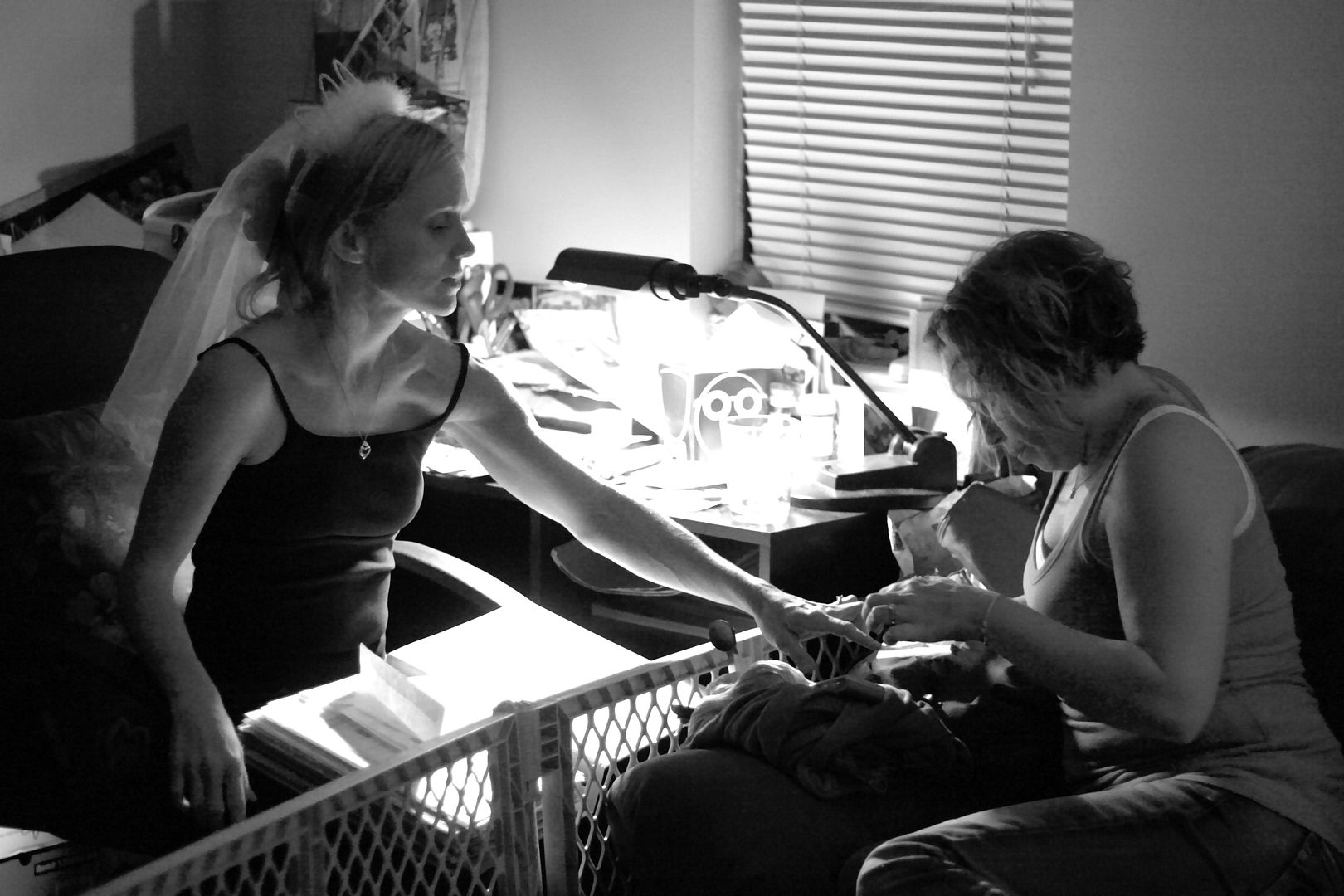 It wasn't all business, in fact it was mostly play. Sandy is an incredibly considerate bridesmaid, she called me before she got her very stylish and practical in Florida summer, haircut. She cut her hair with my blessing, but I appreciated the heads up. Speaking of thoughtful, please note my awesome bride headband that Lara brought me. Riley said "oh, Mommy pin-cses!". It was sweet. She decided if I was a Mommy princess than she was a "baby princess". We watched a silly wedding movie and snacked. Riley sat very sweetly sharing my popcorn. When the movie was over I sent Riley to Daddy to tuck her in. At which point, I came back to my girls and announced "that concludes the Riley portion of our evening."
At that point, with both bridesmaids accounted for, I donned my bride headband and debriefed them on the projected timeline. Lara found the shoes the girls will be wearing yesterday, which was exciting. We talked dress fittings, big DIY projects, the shower, the bachelorette party, the rehearsal and of course the big day. They both had some really good feedback on the timeline and individual events. It's nice that they were both got married recently so it's all still fresh. On top of which all of my bridesmaids are sharp as tacks.
After the "meeting" portion of the evening concluded we bid Sandy a good night and put another movie in. We decided to assemble the last 14 save the dates while we watched. It didn't take long before they were done. I couldn't believe all the months of deciding, designing, ordering, waiting and assembling were over. After that we loaded them into the envelopes I'd already hand addressed with a brown fine tipped Sharpie. Just a tip (because it the opposite of what is usually done and I kept messing up): Magnets have to be mailed with magnetic side facing away from the address. In my case it meant opening the envelope to see the Kodak logo on the print paper and black magnet instead of a pretty picture of fairies in the woods. If I had thought it through better I might have cut some pretty paper, but I was ready to declare this project done.
After the save the dates were all correctly oriented in their envelopes we did my favorite thing, checked people off the list. In the end they were all accounted for, hurray! I'll be taking them to the post office Monday. I'm so glad I got to have a girly night and talk wedding for a few hours. I think we'll be getting together again in a few weeks when my sister flies in for dinner or something, fun stuff. After that we'll have dress fittings, super fun stuff.
My first wedding party event is behind me and my save the dates are mailbox ready, it's really happening.