I'm thinking about something like this: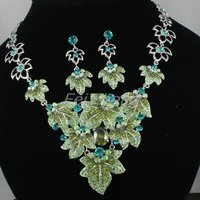 It's a little big, but it's the right style. I was originally thinking pearls. I know how conformist of me, right. Sue me. Something like this:
I love pearls they're so classic and girlly. I also love a little sparkle and the bling on this one's appropriately nature inspired. I suppose I should wait for a look at my custom bling on the wedding dress before I make any decisions though. I'm starting to wonder if I couldn't DIY one of these.
I still love this head piece:
The good news is it'll go much better with my new dress than the one I was going to wear. It's also very Midsummer Night's Dream since it was set in Athens. I'm pretty sure I'll find an excuse to wear it long after the wedding too. Trust me, I was the girl who randomly wore a tiara or cat ears from middle school through college whenever I felt like it.
My shoes were easy. Not being able to walk in heels and wearing kid size shoes really narrows the selection. I'm going to dye them champagne to match my dress.
I know I'll sport these long after the event if they're still in on piece too. I adore ballet slippers (and anything ballerina related.
Also, on unrelated note I started to wonder if I'd made the right choose for the bridesmaids dress not that my own dress is so ethereal I love everything about, but I've worried from the beginning about a dupioni silk dress for an outdoor wedding in April. Florida weather is so unpredictable. I've looked around a little and I don't like anything as much as the one I originally picked. I hope the fact their tea length is enough to keep my girls cool. I have a feeling no other choice will measure up.