Aka the Bridal Expo! It's a strange place. It reminds me of going to the big folk fair in Middle school, but instead of going booth to booth getting your passport stamped you go from booth to booth signing up to win engagement photos and bridesmaids jewelry.
The best part (just like the folk fair) is the food!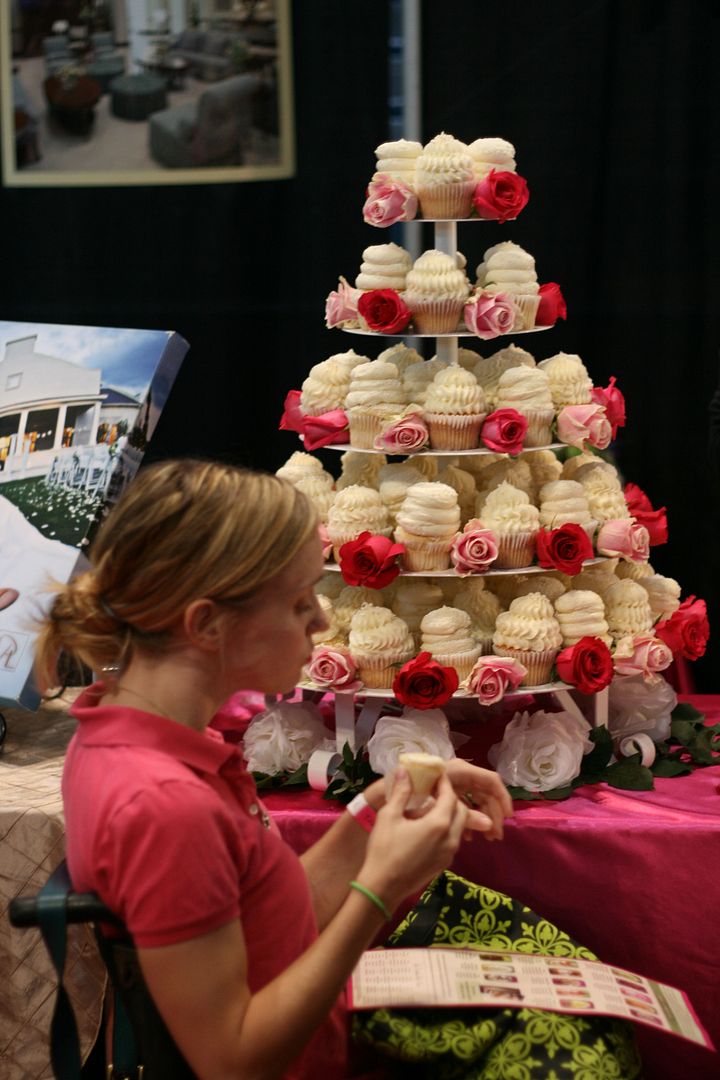 Here I sit happily sampling a cupcake and perusing their flavor options like "margarita and princess". It was really yummy. They seemed really nice, but when I asked if they did custom flavors (assuming they did) they said No. Not just no, but "we only do the corporate mandated flavors." Lost a potential customer there, ladies. Too bad your such corporate tools. Of course I'd be totally conformist and trendy if I had cupcakes anyway, so pass. They did, upon seeing me shake my head and abandon the flyer, stammer "we can do different colors..."
Here's some beautifully displayed hors d'oeuvres. They even wore cafeteria gloves for my protection. I had something with garlic and goat cheese. It was good, but not amazing. Later I had a crab cake I can't stop thinking about. If that crab cake hadn't come attached to a hotel on the beach I would have been sold. Also, I already decided on a caterer that's special to Mike and I. That being said maybe we'll visit that beach hotel someday for crab cakes...
This bakery was trying to sell me on "wedding cookies" that was lost on me, but...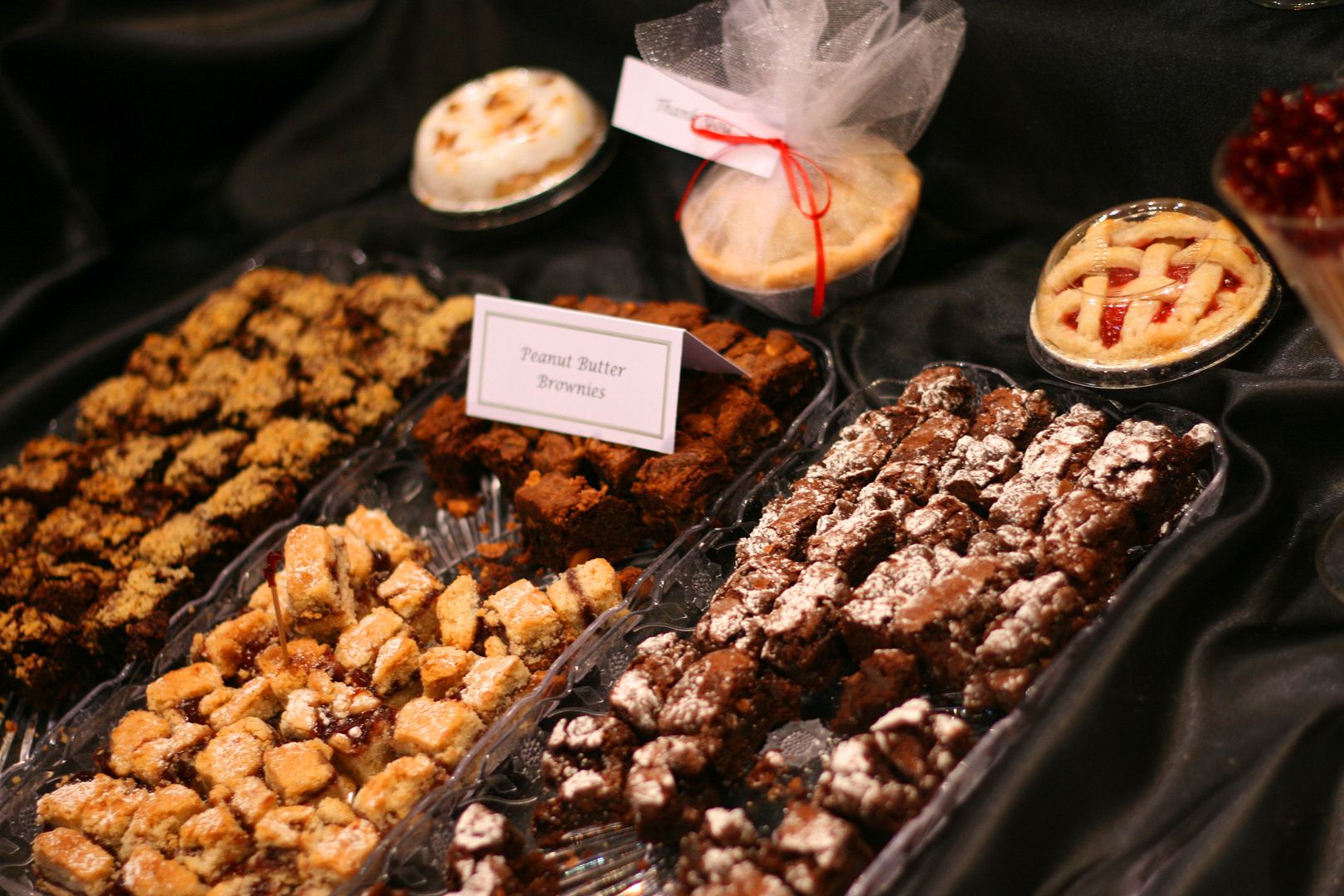 Aren't these mini pies adorable?
Don't you love pretty food?
Besides eating I talked to quite a few photographers (like this guy: Chi Photography). I still have my first choice, but I'm afraid he's so brilliant he'll be booked so I keep looking for acceptable plan b's (although, I think I found that already too). The other thing I was concerned about (I know it's early) is hair and make-up that will come to me.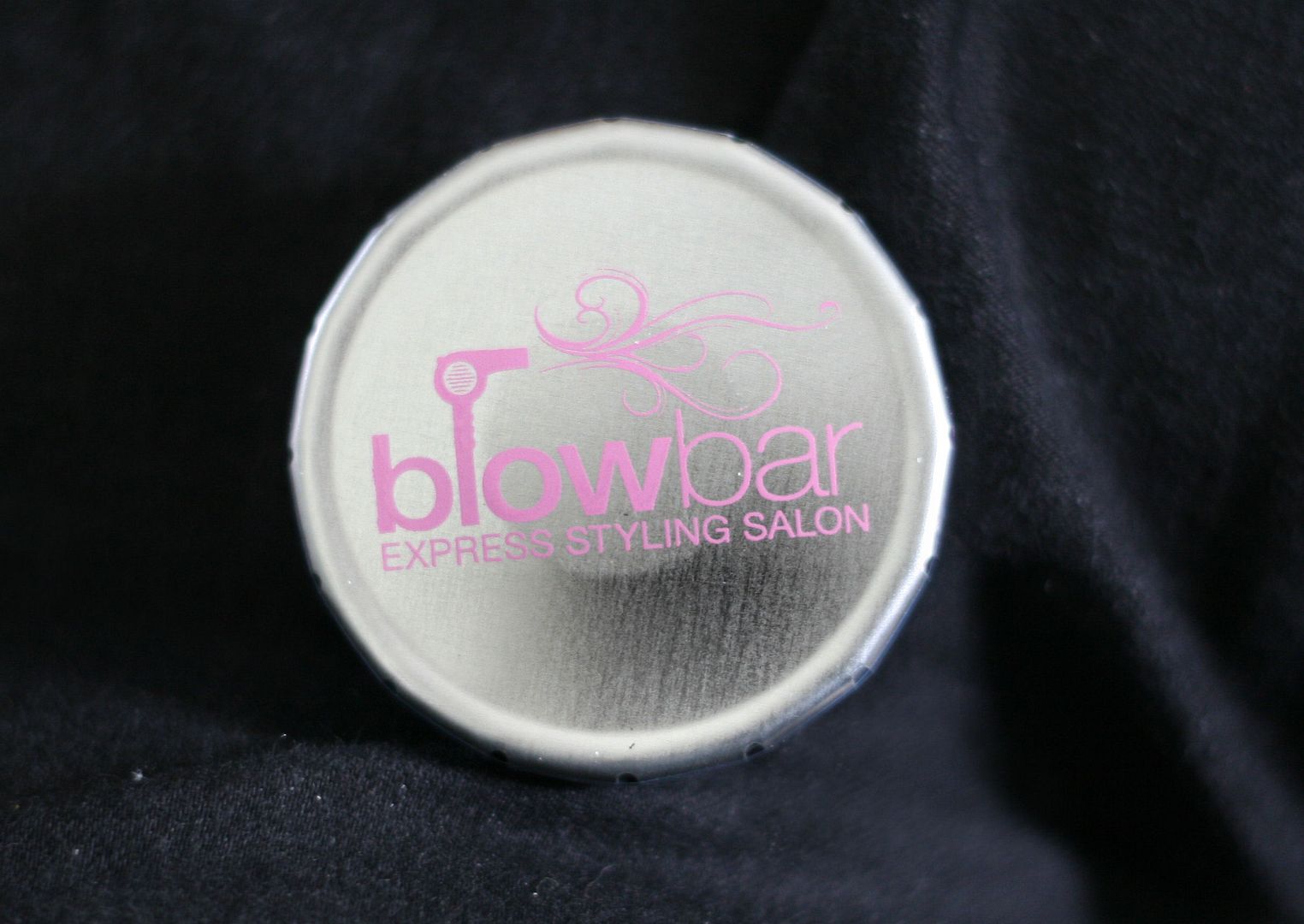 The name of this place made me giggle. They gave me a coupon for a "$30 Blow" no kidding. They're an express salon which means no cuts just styling. They were too pricey for me in the end which is too bad because I would have loved to tell the maids to meet me at the Blow Bar.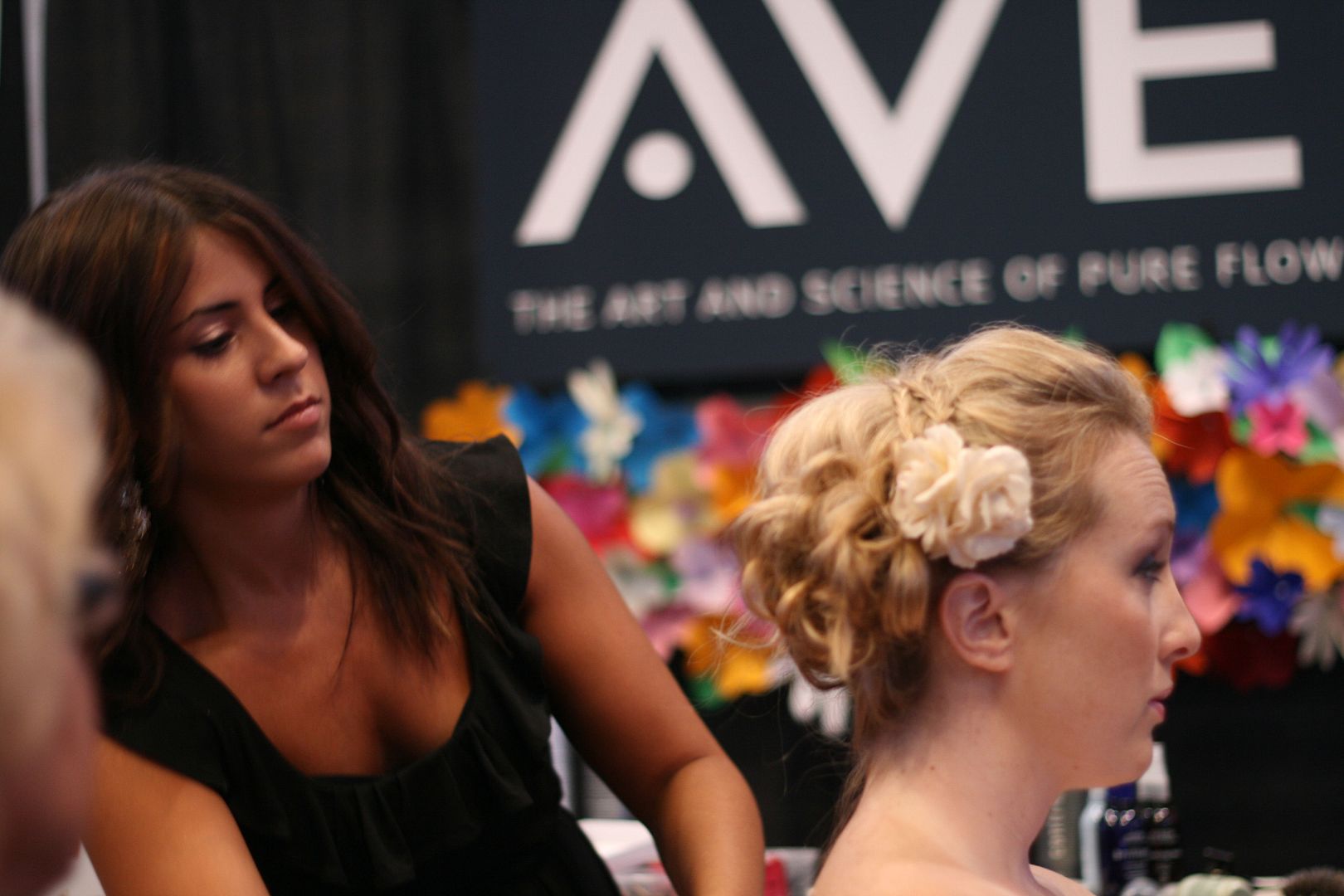 These lovely folks were doing a demonstration of their hair skills. It's a supervised hair school so their rates are super reasonable. The bridal up do includes a trial in the price and they gave me a 20% coupon. The downside is they obviously can't come to me.
There were all manner of vanity-centric businesses there, but you have to giggle at this: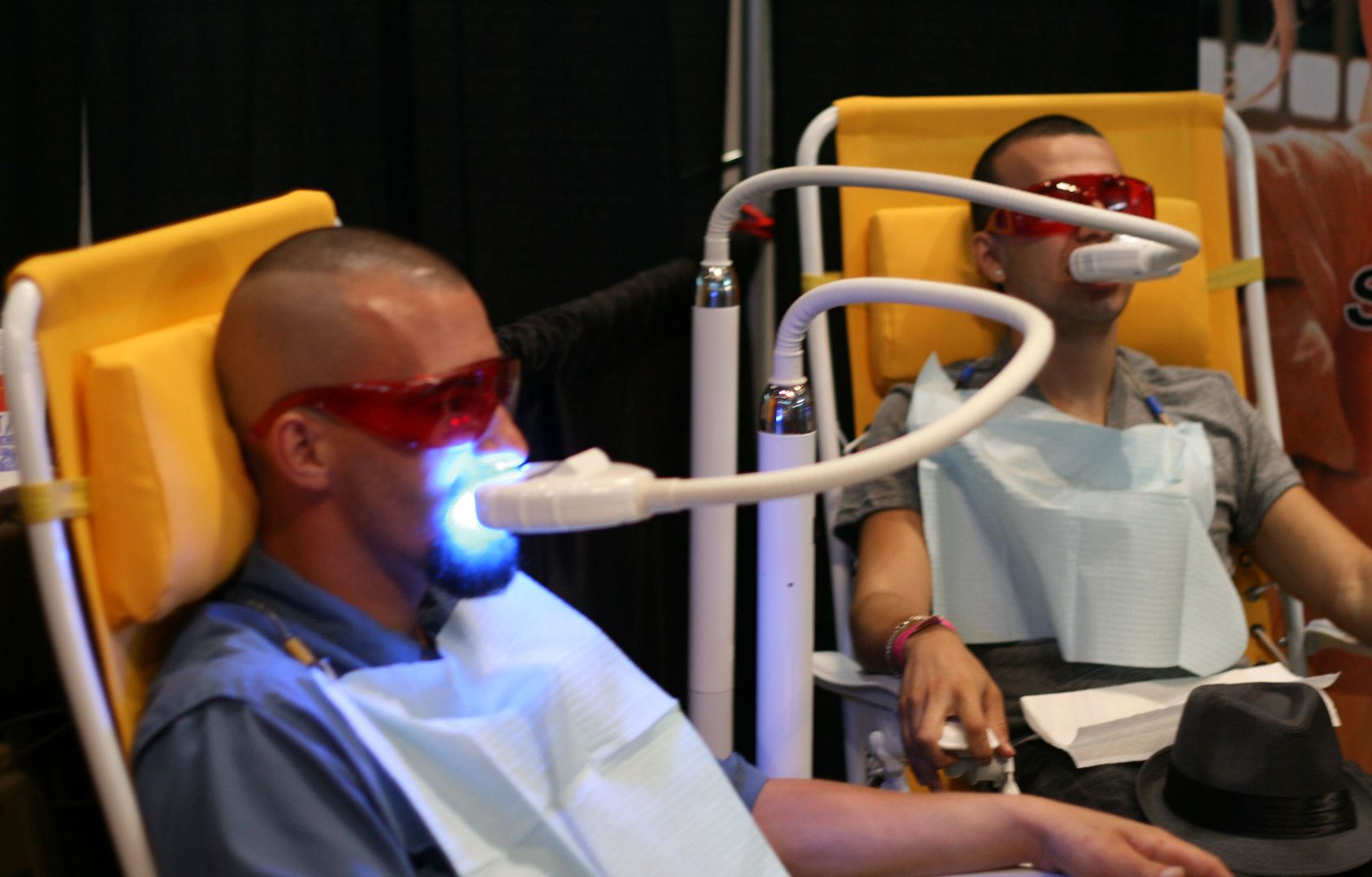 "What did you do today, Hank?" "Went to the convention center and got my teeth bleached" I prefer privacy when altering the hue of my chompers, maybe I'm alone there.
I got a lot of SWAG, but by far my favorite was this little beauty: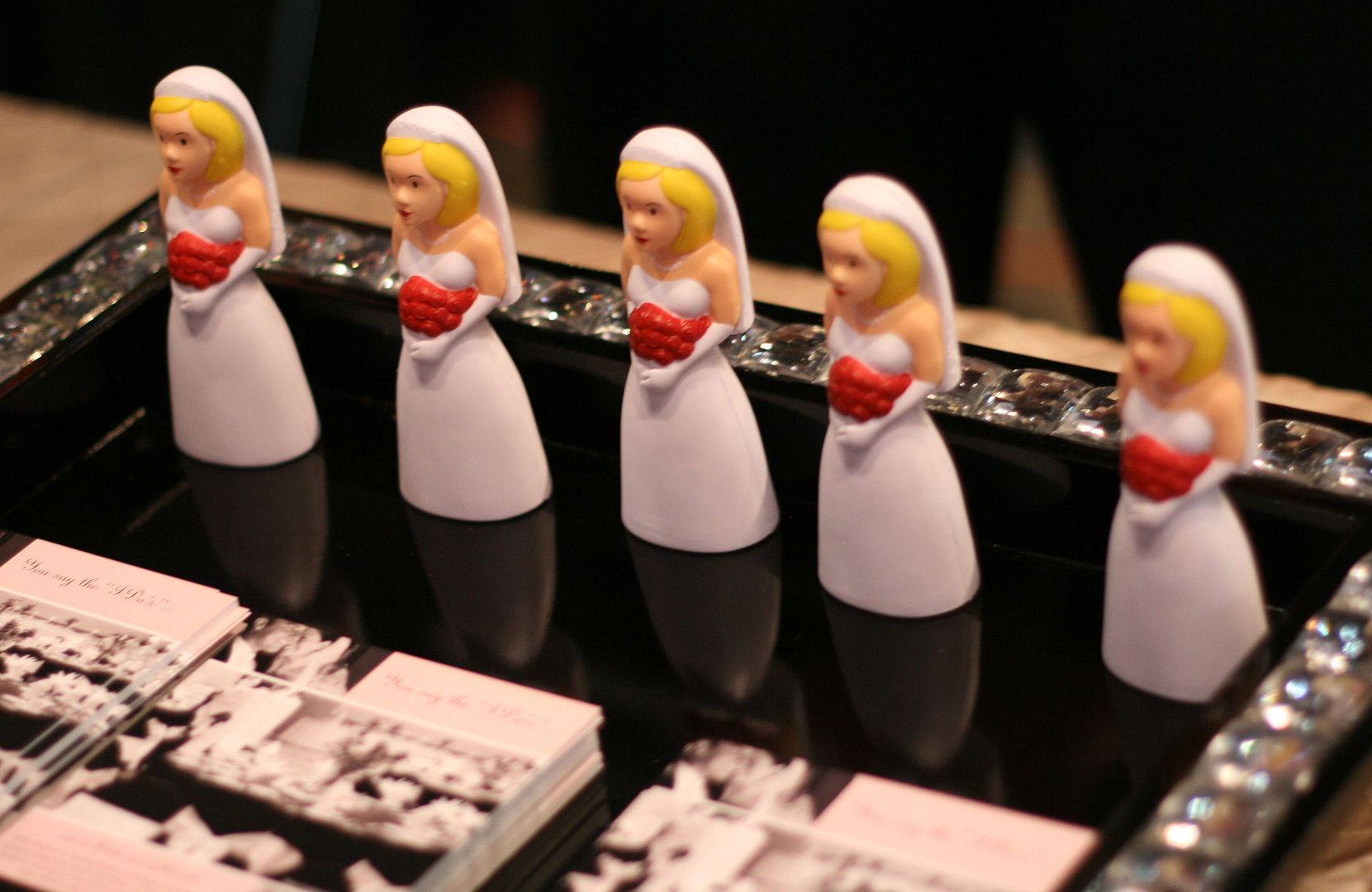 Squeezy stress bride, oh yeah. Love it. I squeezed it all the way home thinking about all the hissy fits I've endured with 8mo until D-day. Of course when I brought her home Riley claimed Mommy's "doll" for her own. It was about 30mins before my squeezy stress bride looked liked the estranged halves of a magicians assistant. Poor thing. Mike said "now you have one for each hand!"
There were a few odd booths like ADT security, really? When I think of weddings I think panic button. Also, Costco...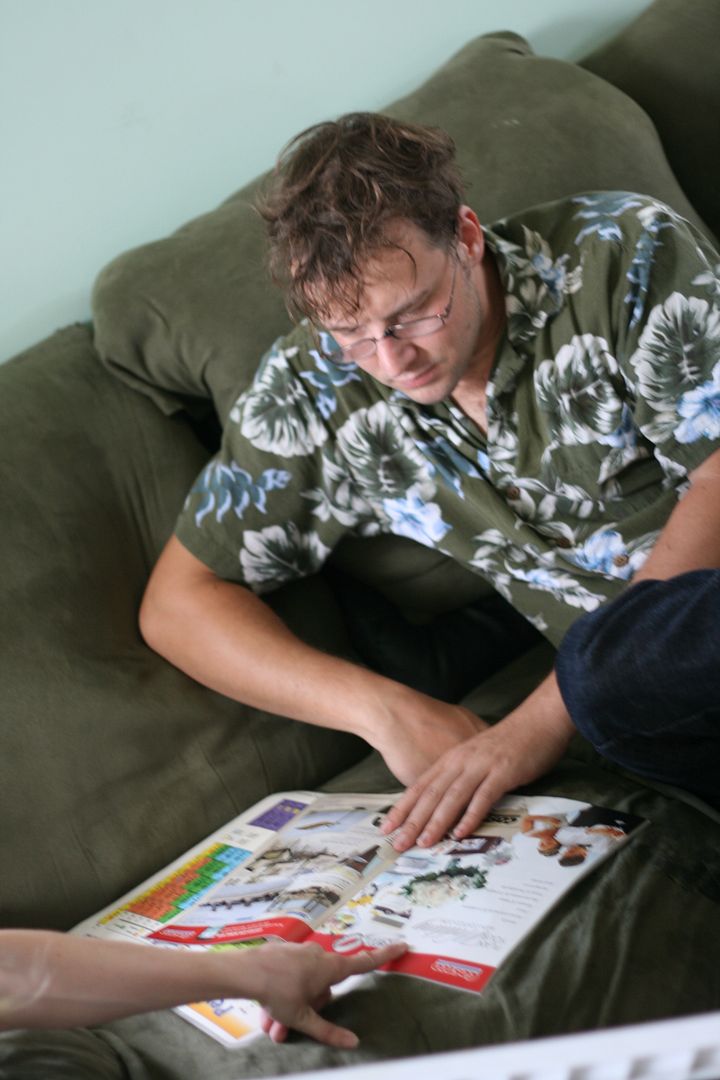 Here's me pointing out the Costco brochure has 20ish pages and only one half page of wedding stuff. Scheisters. Not that actual wedding vendors are much better.