People get pretty worked up about weddings. They all have deep rooted feelings about the event and all it's various parts. I never know (and am often surprised by) which things get the most reaction. I knew not wanting to be escorted down the aisle would upset people, but I think having my dad perform reading, participate in the ceremony and possibly play music is far more meaningful. There are other things I've mentioned like seeing Mike before the ceremony for pictures which hasn't really caused a ripple. When I told the florist I was just going to throw my regular bouquet she was not pleased which is understandable. I just wanted to save the money and couldn't think what to do with it afterward. I am no longer throwing the real deal if anyone else is worried. It's just hard to predict is my point.
A few days back I posted a Facebook status asking for people's first dance song. It was really interesting, I think all total there was 21 responses. Today while editing my last post a question popped into my head and I thought that it might be fun to get feedback on that the same way. I posted "Cake squashing (into each others faces')...Yay or Nah?" Honestly, it wasn't really on the table, but I thought the responses would be interesting, possibly humorous. Oh, boy was the overwhelming response negative.
I got some very rational responses like "Nah, you'll ruin your hair and makeup." I got some actual advice about discussing it before hand as well as some lighthearted jokes. There were some people who were very offended by the suggestion. I kept thinking of this scene on My Big Fat Gypsy Wedding where the bride smashes the cake in the grooms face and then tries to run away, trips over her enormous dress and falls on her face! I remember thinking "Karma!"
The gypsy bride I'm referring to.---------->
Honestly, I would be pretty livid if Mike smashed cake in my face a)because wedding cake is expensive and delicious and not for wearing b)because it'll be the only time in my life I have a professional make-up artist making me look good (as opposed to making me look old, scarred, or an unnatural color) c)I would surely fall over backwards which would be painful and embarrassing.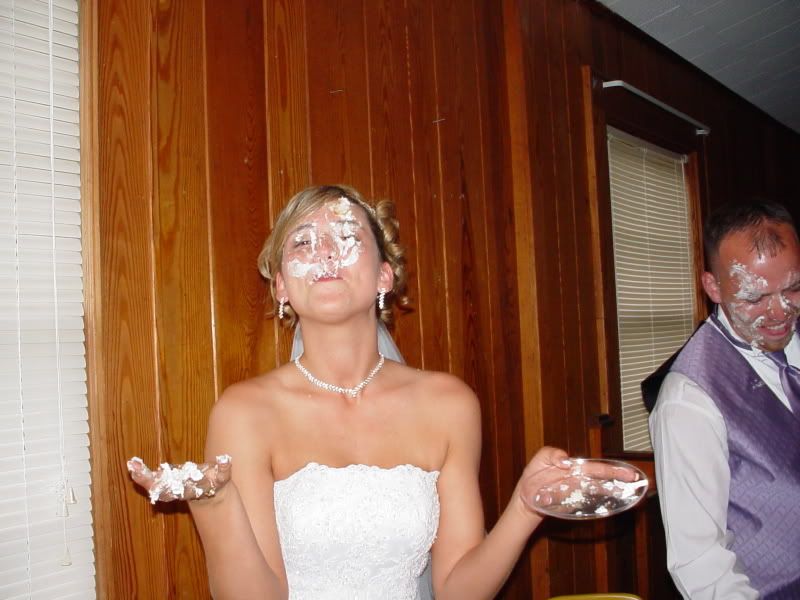 I don't have any strong emotion about it though. I do not feel that it would be disrespectful. I do think it's a bit immature, by the way that gypsy bride was 18yrs old. I will be 30 when I get married and I have two children at home. I think basing how well a marriage will go on cutting and serving cake to one another is ridiculous. I know exactly how well we function as a team we've been one for years through some of the worst things a couple can go through. We'll be fine.