Today mom and I went to look for a dress for her and bridesmaid options. We went downtown to a place I had a good experience with a few years ago. I called to make sure we didn't need an appointment and they warmly told me to come on down, anytime. We ended up bringing Riley, but she was an angel the whole time.
Upon arrival, I said "Hello. I'm the bride, this is my Mom and she needs a dress." We walked into to the Mother of the Bride area with purpose. Mom told the sales lady what color she was hoping for and a few options were pulled. I informed them I preferred she have tea length. That little comment caused the sales lady to pull this:
There was a collective sigh as my mom and I agreed it was lovely.
Here's the dress live and in person. I prefer it without the sash (so does mom).
Here's a close-up of the collar on the lace jacket. I love the lace jacket and mom loves the silk cuff and collar detail. Her dress will have straps in the same sage color as well. I think it's classy and color appropriate. I felt like her pervious picks were too ballroom formal. This is going to be so pretty on her. She held it up and put in arm in the jacket, but due to sample sizes being what they are she couldn't try it on. We'll be back to order it a couple months down the line, YAY! Watch out, Moms and Stepmoms you're up next for dress shopping with the bride.
As if that wasn't exciting enough, I found a bridesmaid dress! Here's the picture I showed them:
It's Jim Hjelm Occasions.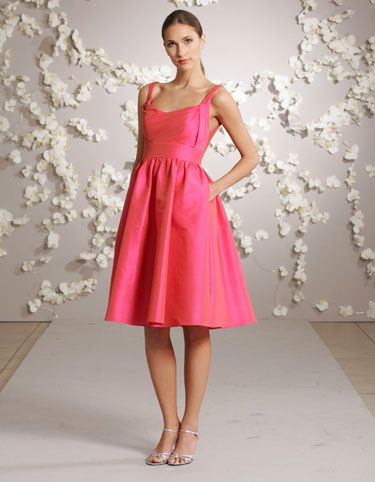 Here's a picture on a standing person. It's even lovelier in person. The sales lady pulled it for me and then wasn't sure it was the right one. I had originally been set on black strapless dresses with emerald sashes, but I reconsidered once I picked my maids. I love how 50's it is.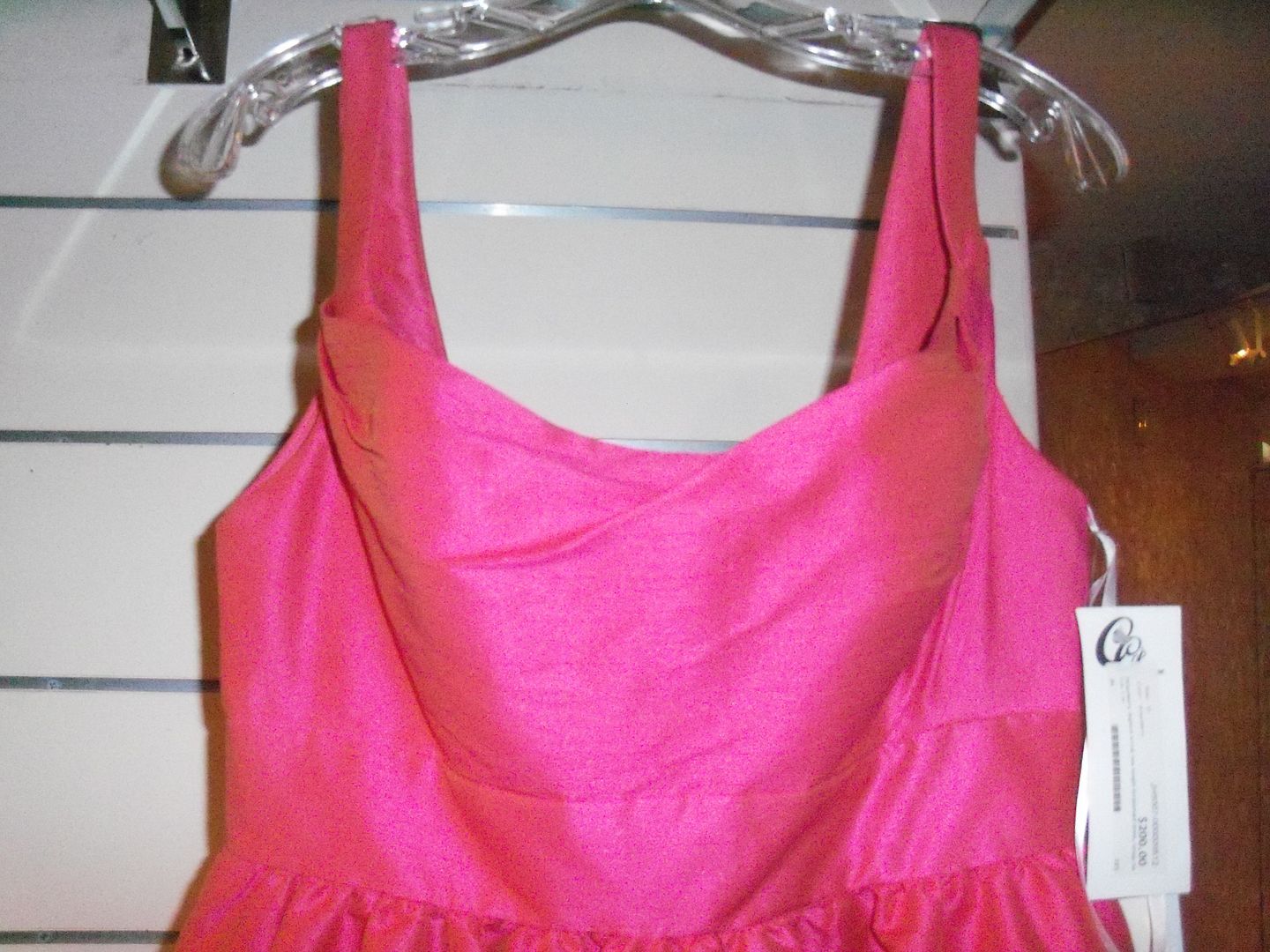 Here's a close-up of the beautiful detail on the top. It's so different. I have a bit of an obsession with asymmetry so I LOVE the top of the dress. It also comes with pockets! How fun is that?
All the pictures show it in strawberry pink, but I poured over swatches a long time today to make sure that had it in a color that worked for me. I originally loved mindori in swatch form, but when I looked at a dress in that color it looked lime green to me. She also showed me turquoise in the dupioni fabric, but it was too blue. Too blue, too yellow I feel like Goldilocks! I landed on emerald; it looks beautiful in the sunlight because of the shimeriness of the fabric. Here's the swatch against the dress: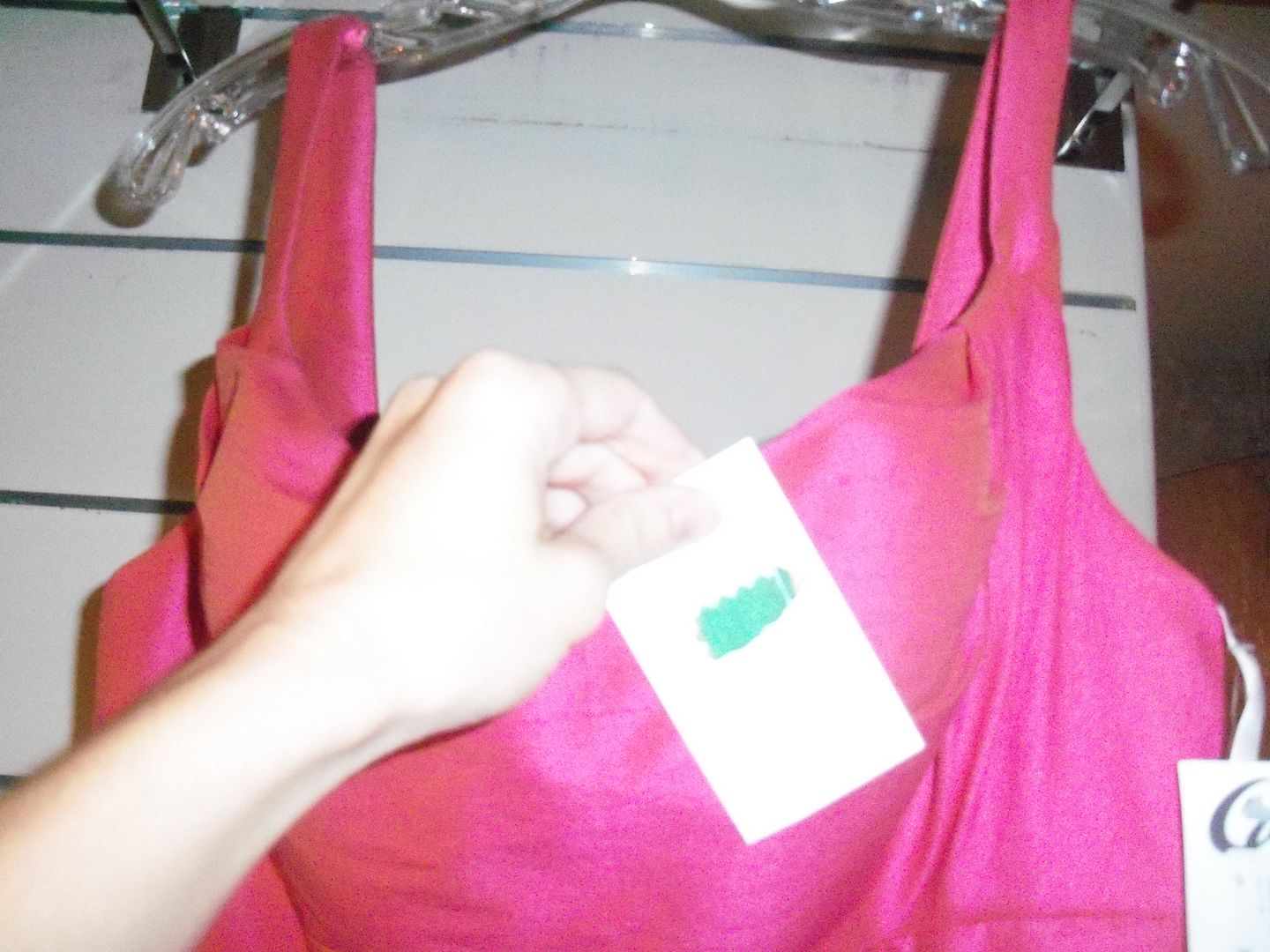 It's not the best picture, but you can see it is a truer green. I wish you could see the shimmery quality in the green. In this one you can see the pink one turning to almost an orange.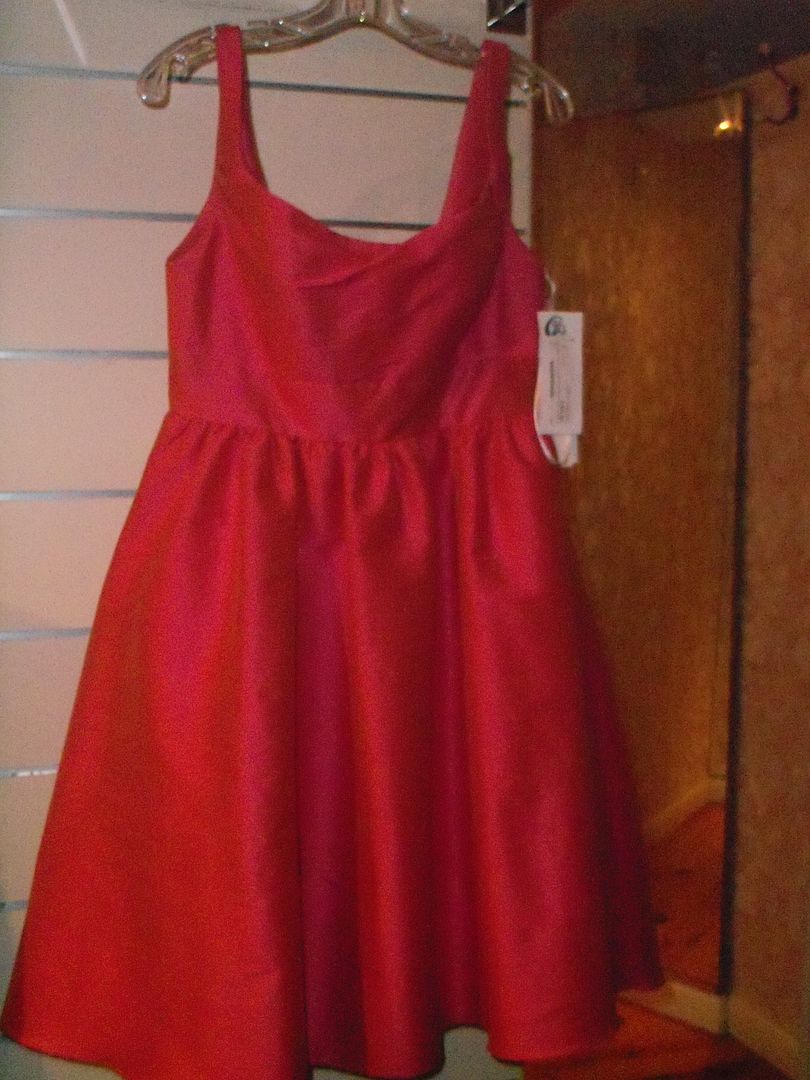 The best part is it's going to look beautiful on all the maids! I texted them the style number immediately after I left the store and all the responses have been super enthusiastic. I am so glad because I'm in love.