I started a wedding notebook years ago and for the most part I'm still drawing inspiration from the same images. Here's the collage I made on the front:
And here's the back:
It's just a three ring binder full of pages ripped from wedding magazines, pages printed from the internet, drawings and lots of hand written notes. Before even the first divider are two plastic sleeves holding those comical fantasies I had the nerve to call budgets once upon a time. There's also a clear pencil pouch containing the highlighter and paper clips with which I attack every wedding magazine. That pouch also contains business cards representing the good, the bad and the mysterious venders I have dealt with thus far. Under all that is the first tab which simply says "Dress".
This is the very first thing I did when wedding thoughts seeped into my brain. Before I even knew it was a possibility I designed this dress online. Everything else in the dress tab is loosely based on this.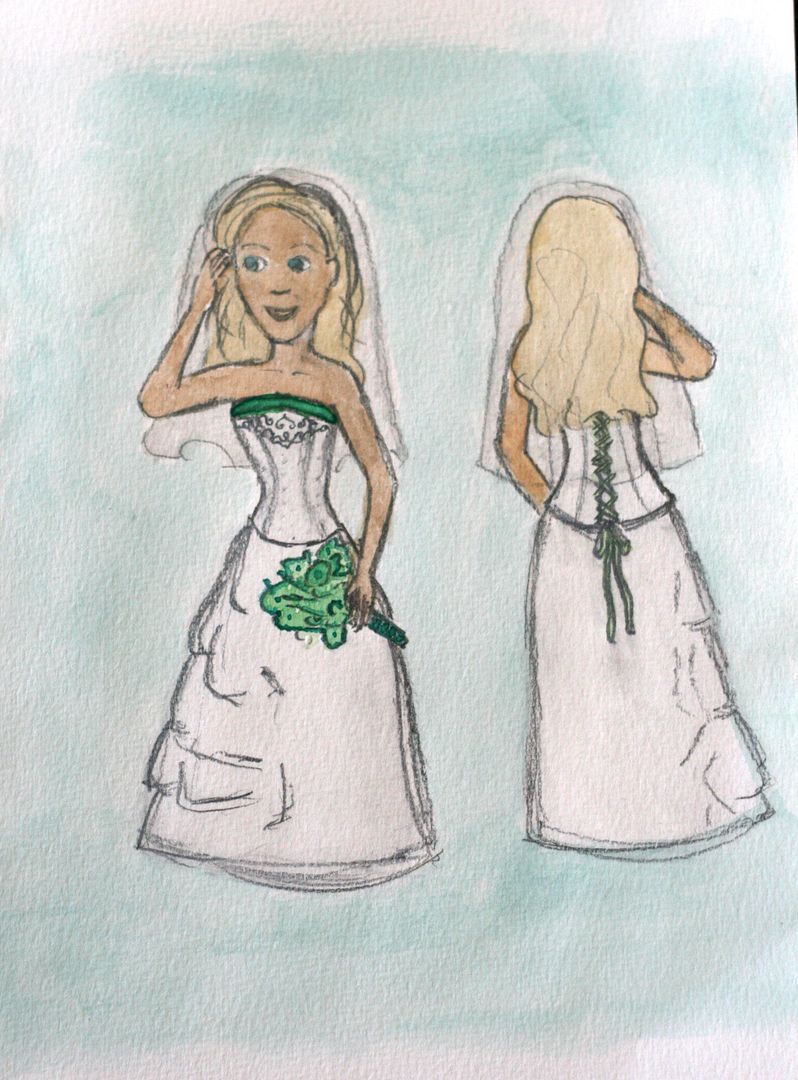 Including this picture Lara did of me in my altered Alfred Angelo gown.
This ended up being one of the dresses I tried on at my appointment with the troll if you recall, it was the one that made me cry. It looked much better on me.
There's even this gorgeous pale green designer gown that costs more than my car, sigh.
The next tab is called wedding party. This tab has what you'd expect it to. Pictures of bridesmaid's dresses and flower girl dresses. It also has an amazing picture Mike made in paint shop of himself and some groomsmen: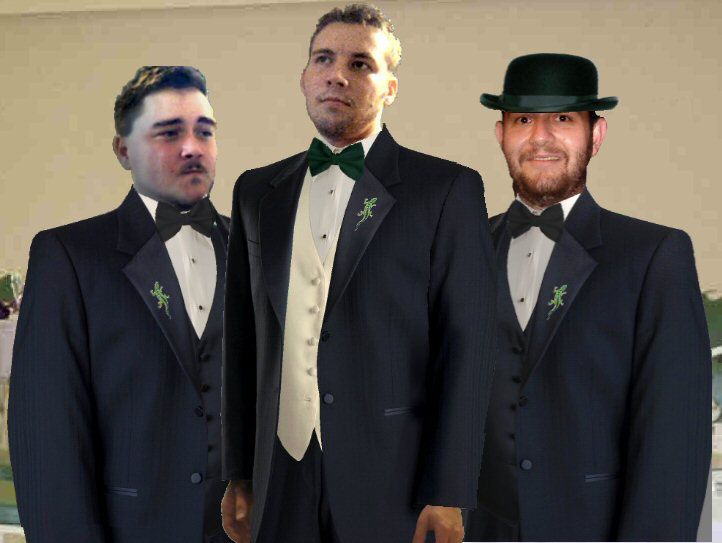 That's some funny stuff! We had originally liked the idea of lizard lapel pins instead of boutonnieres, but I'm pretty sure we've scraped that. We were imagining lizards here and there before I don't remember why and Mike made this just for laughs:
There is of course a tab labeled "Rings/Vows", but you've already seen those. Beyond that is the "venue" tab. It contains a well worn blueprint of the space and copious hand written notes on cost breakdown, rules and impressions. The next page is crisp and neatly titled in red ink "Plan B Venues" which has then been highlighted in yellow. It has a list of 5 alternative venues. They are listed with their names and prices, but the only one with contact info and indepth notes is the first one which has 2 stars next to it. USF Botanical Gardens the only place besides Sunken Gardens we really considered.
After that somber and straight forward group is "Cake/Catering". It is important to note in that case I wrote cake four years ago and only a few weeks ago added catering. In the original planning process we never settled on a caterer and it was an emotional subject for us (being told who we could use). This go around I have picked and budgeted the meal and need only confirm my date (once I have it (twitch, twitch)). Here are some cake inspiration: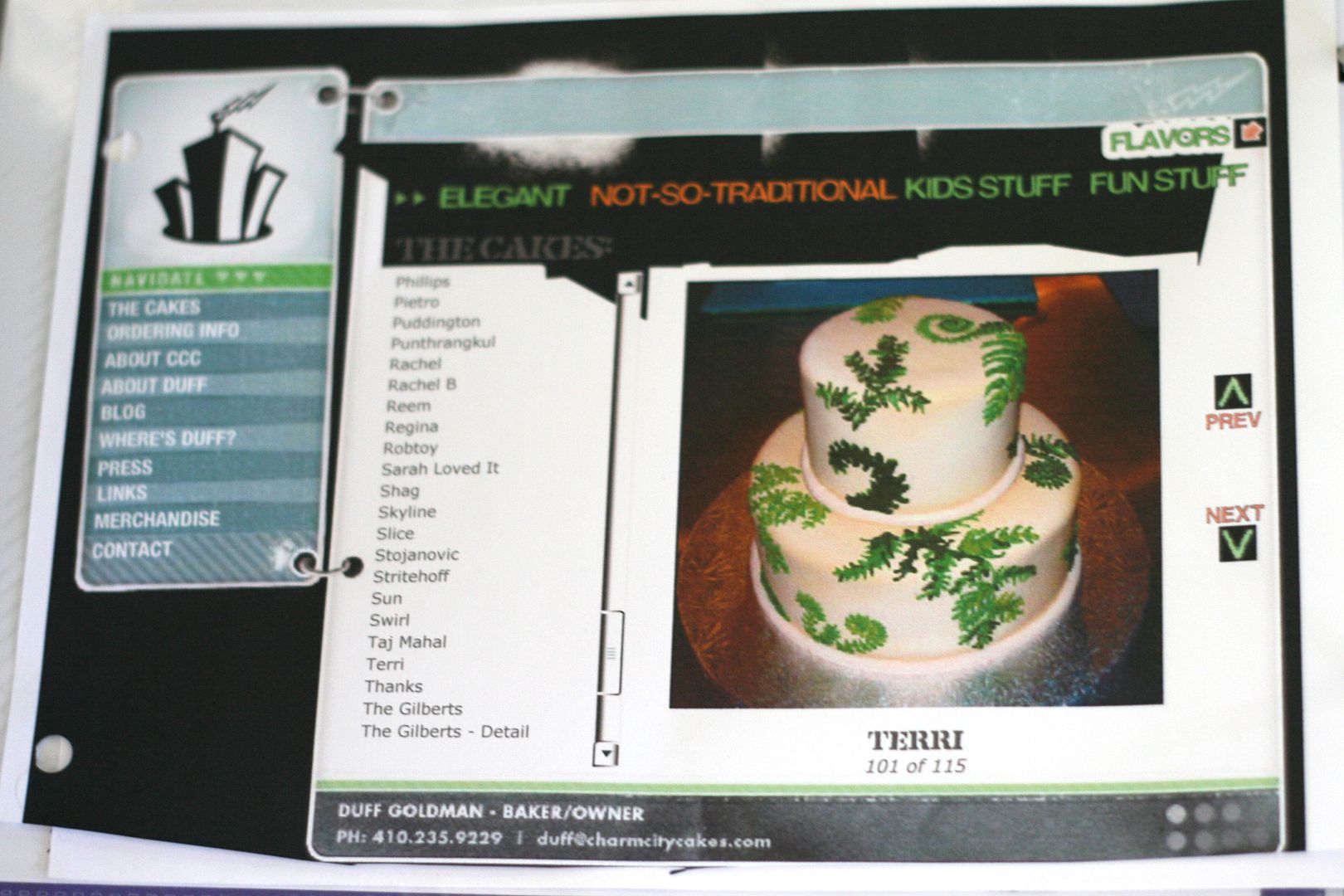 Of course I have one from Ace of Cakes! It's actually pretty simplistic for them. Too bad I'm not getting married anywhere near that bakery.
I'm very much in love with a climbing vine and very opposed to fondant that looks like play dough.
After cakes is the second to last tab titled "Flowers and Decor" it's full of lovely things that the florist informed me are not in season, can't be cut for bouquets or were unidentifiable. Darn magazines. I'll get into all that in its own post. Look at this pretty stuff:
I originally wanted lots and lots of green flowers. I think I've changed my mind completely on that.
Flower girl head pieces. So, beautiful. After green purple is my favorite color (depending on shade).
Anemonies remind me of Alice in Wonderland for some reason. They make me happy, they are in season and can be cut. Phew!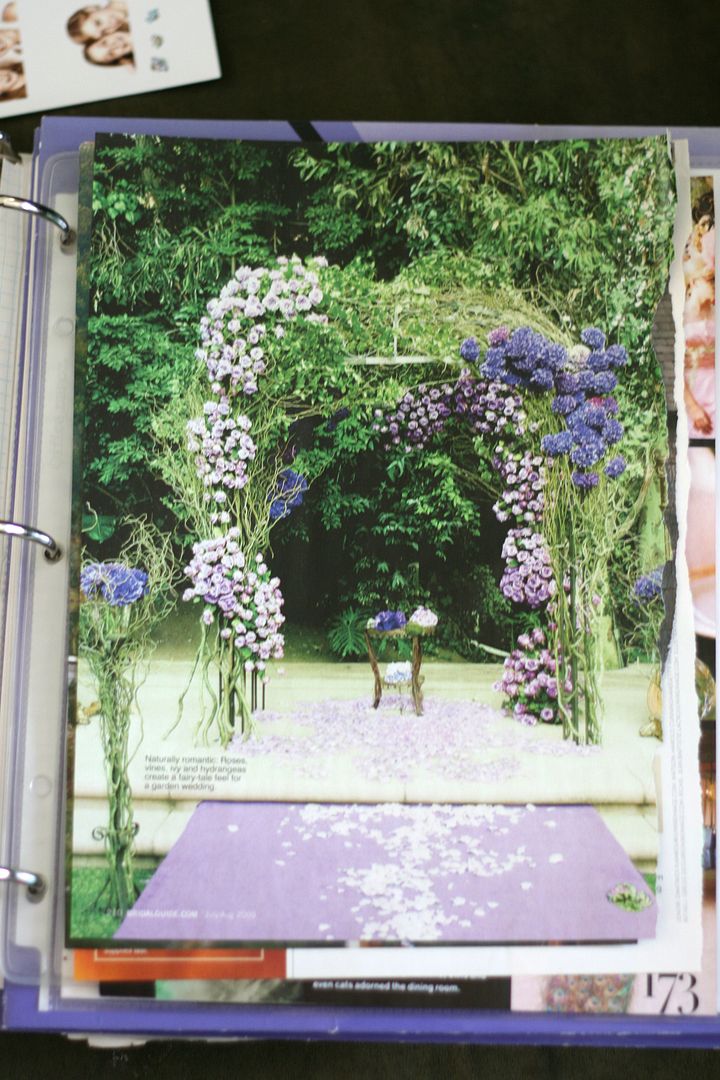 This had to cost a fortune, but it's breath taking.
The only non-floral thing in the bunch. I'd love to have hundreds of lanterns with twinkling candles, but candles are a big no, no and there are budget restrictions. Hopefully, we'll have one or two with led candles to light our way. Writing that flooded my head with quotes from Romeo and Juilet. Nice to think of, but not the Shakespearian work I'm trying to conjur.
Last of all is the "Invites/DIY" tab. One of the only things behind it that I was sticking with was this awesome idea for making your own cake stand:
Thanks Martha! Such a simple, but fun idea. That was until I saw this:
Amazing! Perfect for my enchanted fairy forrest wedding with my climbing vine cake atop it. I get chills just thinking of it.
I hope you enjoyed your guided tour of the notebook that was. Soon it will be striped of inspiration to make room for reality. It'll soon hold contracts, recpits and pictures of the actual dresses and flowers. It's sad, but no less exciting.