Most people use the phrase "getting down the aisle" to refer to a slew of financial, emotional and logistical issues. I am far more concerned about physically making it down the aisle. Putting one foot in front the other in a cumbersome dress and staying on my feet as long as is required.
My new friend Andy, who you may recognize from my I Love This post, wrote an article about finding a wedding dress when you're in a wheelchair. Believe me, everything fits differently when you sit all day. She talks about the aisle being too narrow. Apparently, her ushers set up the chairs too close together and she barely fit. She describes "zooming" down the aisle quickly because it felt awkward.
I have another close friend who got a prosthesis just for her wedding day so she could get down the aisle without crutches. She did it and looked amazing by the way. I also read about this bride: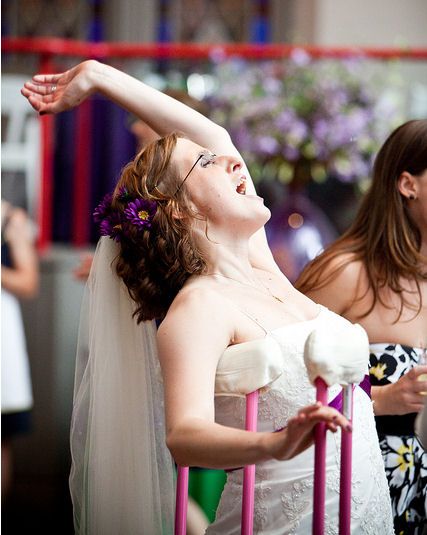 Who said walking down the aisle was the first time she walked without crutches in 18 years. I love this picture of her rocking the pink crutches for the reception. That short little walk seems to be a big motivator.
Like most milestone events in my life in the dreamy stages of initial planning I simply forget the disability logistics. I pictured my perfect dress in great detail. Some years after I bought one to alter to perfection, I was at a fitting thinking "how am I going to get around in this." That ponderence turned into "how am I going to get around at all". Walk down the aisle? Maybe. Stand through ceremony and readings? Not likely. Make it through the ups, downs and dancing of the reception? Nope.
Curse you, reality! A slow walk to music while everyone stares at me?!? Oy. I am facing the facts now and it is clear that even in comfy shoes my crutches (cringes) and possibly my wheelchair (throws toddler style tantrum) will be needed on wedding day. There's no way I'm wheeling around in my full skirted dress. It'll get dirty tire marks on it where the wheels rub. Change my dress? Yeah, right. Ditch my chair? Maybe. Mike's sister offered to "deck out" out a "wedding wheelchair." Ugh. I'm sure her intentions are good, but I don't want to use it let alone draw attention to it. Second, I have the irrational fear of looking like a parade float.
Andy raises the point in her advise to another disabled bride that if you go down the aisle in a chair the guests don't have to stand. I certainly saw some well used levels in Andy's wedding photos. There was no awkwardness. No standing crowd around the girl in the wheelchair. Even standing I'm more than a foot shorter than my groom. I guess I needed someone to say that I was in charge. If I don't want the guests to stand, they don't. If I want to sit, I can. If I need my (grumble) crutches I use them and rely on the genius of the photographer. If I have to resort to the wheels I'll just have to change dresses for the reception...two dresses sounds pretty good.