After what happened over the summer I had a little anxiety about trying the dress on. On top of that, It was made a few thousand miles away and there's been all this anticipation and now it's here. Also, I'm only a few weeks recovered from hip surgery. So, there was a lot going on in my head. I think that's normal though, most important dress you'll ever wear and all that. I wasn't standing on a pedestal with sales people and strangers gawking. I got to be in my very own (very messy) bedroom when I saw it for the first time. So, cool.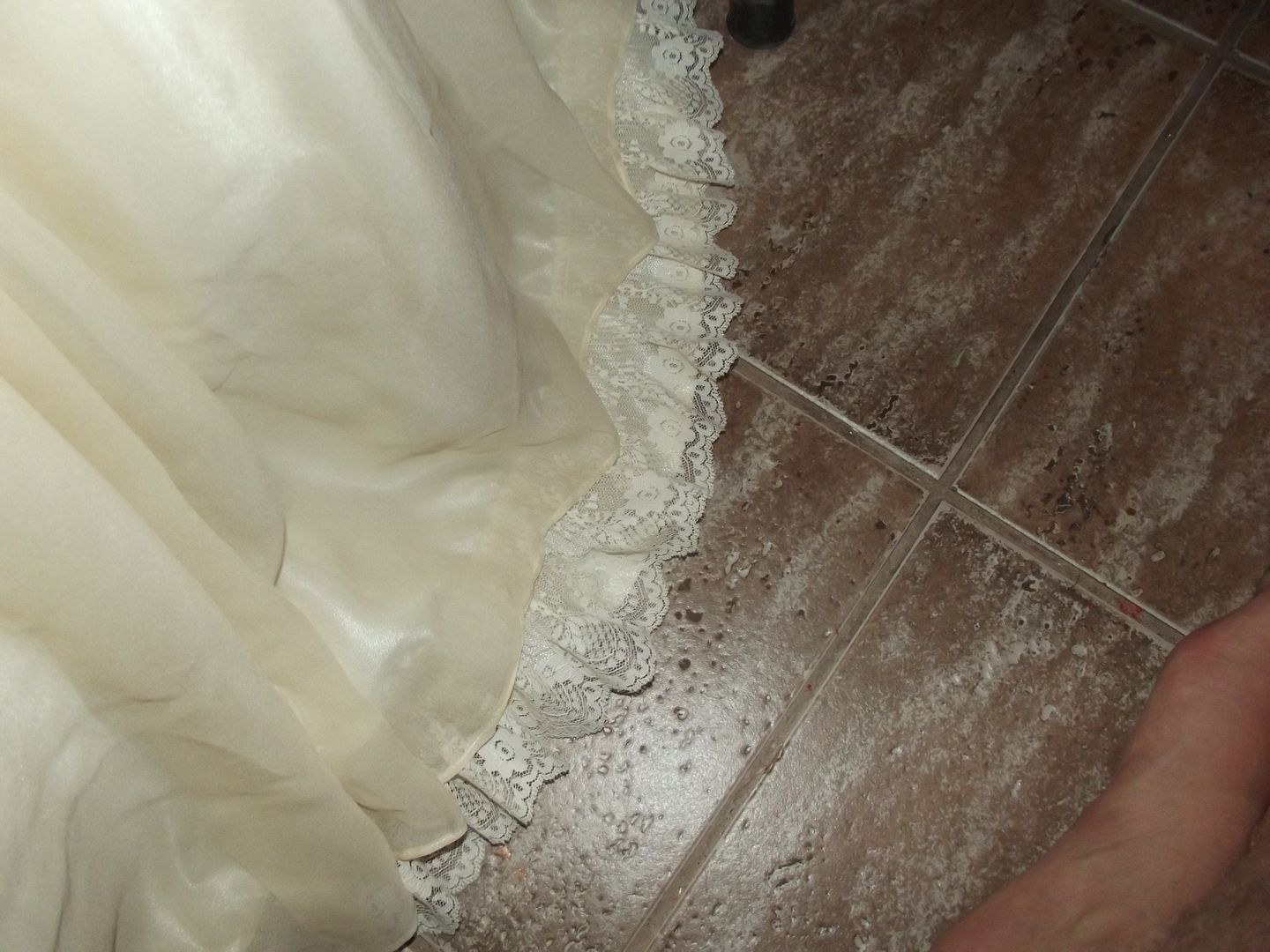 I hopped into it with Mike's help, but balancing was tricky. I had to hold on to the walker without setting the tips down on my ivory laced hem. I managed all that just fine, but Mike had trouble getting it zipped. Suddenly, my great fear of it falling to the floor when I put it on because I lost too much weight didn't seem like the worst thing ever. I got more and more worried as I stood holding my top. I could hear all those brides from Say Yes to the Dress screaming "It's not zipping?!? You CAN't zip it? This isn't funny!" It turned out to be an overreaction (aren't they all) because there's a tricky angle in the zipper. Mike was attempting to get the zip over that spot without damaging the delicate fabric. He prevailed.
It fit like a dream. I was barefoot so the hem lace was on the ground, but it'll be just right with shoes. It was light enough to hop around in it so dancing will be a breeze. Pictures just don't do it justice. I'm so happy.
That's what a girl in a wedding dress that fits looks like, happy. There are things to discuss with my bridesmaids like what kind of undergarment will work best. The lady at the boutique told me I'd need to have cups sewn in, but I'm not sure. I have or have picked out everything I'm wearing expect earrings. They'll be my something borrowed from my bridesmaid who's been married the longest. It was a good first fitting. I really love my dress.