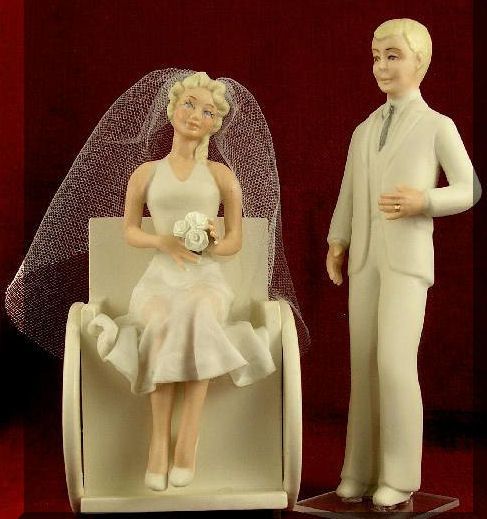 When I started this blog I did some message board surfing and found pictures from two beautiful weddings where the bride happened to be disabled. I largely forgot the weddings of other disabled brides except for the occasional image search. It occurred to me a few weeks before the hip surgery (while Google-ing myself, busted.) to see what was out there as far as advise for a bride who happens to be physically disabled. Boy, was I disappointed!
I assumed I'd find some posts about adapting the aisle walking and dancing elements. Perhaps overcoming height differences in photos. Something, anything practical that I may not have thought of. Nope.
One of the first links was this ditty Enabling Disabled Brides on getting married's website. Let's start from the beginning, I hate the title it sounds like a bad work place seminar, ick. Their first gem? Tell the venue what you need. That seems to apply to every bride, no? Doesn't every wedding have it's own unique needs? Sigh.
Their second piece of advice: Go see you're venue. Yup, I think that one is universal too. Whether you're looking for ramps and elevators or the number of outlets every couple should take a stroll around the venue. Obviously, you want to enjoy you're own party. The way they talk I have an image in my head of a bride in a wheelchair sitting at the bottom of the steps of a beautiful old cathedral unable to get to her groom. I hope this kind of thing doesn't happen. If it did you better be marrying someone would would bring the ceremony to you.
The third piece of advice is something I talk about ALL the time. Screw "Supposed To's". You don't HAVE TO walk down an aisle. Your guests don't HAVE TO stand. You don't HAVE TO wear a long dress. You don't Have TO have a first dance. That being said if you want it, adapt. Most of us with life long disabilities are professional adapters by now. Don't get sucked into the wedding etiquette and the expectations of others. I want to see eye to eye with my groom. So, either I get higher of he sits, both are good solutions. I don't want to walk down the aisle so we're using semicircle seating.
There's plenty of adaptation going on not at all related to my disability too. I don't want a cocktail hour because it's a weekday evening and everyone will be hungry so we're doing group photos before the ceremony. Neither of us was keen on being stared at while we danced with our parents alone so we're doing it together. We don't have a lot of unmarried friends so we're doing a "lucky" bouquet/garter toss for everyone instead. You get the picture, make the wedding fit you not the other way around.
Their last piece of advice approaches usefulness and much like the article itself falls short. Talk to your photographer?!? Yes, please all brides everywhere talk to the person who is going to capture your day for eternity. Talk to the person who out of the kindness of their heart or a big check is documenting one of the biggest days of your life. Be specific and get their professional feedback. As far as this article's horribly vague assertion to "mix it up...play with different set-ups" specific examples or actual picture would be very helpful here!
Just so you know it's not all vague advice written by the able bodied I did find this lovely Dear Abby responding to a disabled bride's worries about her wedding day. It echoes the what I was just saying, don't bang your head against the wall trying to "fit" make it yours. It's great advice for your wedding and life in general.
In conclusion I leave with pictures from a wedding I found on the knot (shocking I know) featuring a disabled couple. Wheelchair Wedding

My Real Wedding from The Knot and The Nest.