Let's talk about the dress, shall we? I thought it would be simple because I knew exactly what I wanted. Let me tell you, wedding dress shopping and simple don't exist in the same universe. I wanted an ivory ballgown with a fitted bodice and a floor length skirt with ruching on one side and no train. Something like this:
I decided finding a dress was priority number one because whatever I bought would need a lot of alterations. I had high expectations for dress shopping. I brought Mike (told you, I'm non-traditional) and his sister who's one of my bridesmaids. She bought her camera and got some beautiful pictures. The sales lady was skeptical about my budget, my far off date and my size. I was struck with dread as I browsed the plastic bags hanging on the racks. They all looked poofy, over complicated, and a few sizes too big.
The sales lady was rather troll-ish in stature, demeanor, and appearance. I asked her if she had any dresses without trains and she looked at me like I had three heads. After a long pause I was informed that she didn't have any samples like that, but any dress could be altered that way (with a tone that implied I was nuts). Here's the three dresses closest to what I was looking for at David's Bridal in summer 2008.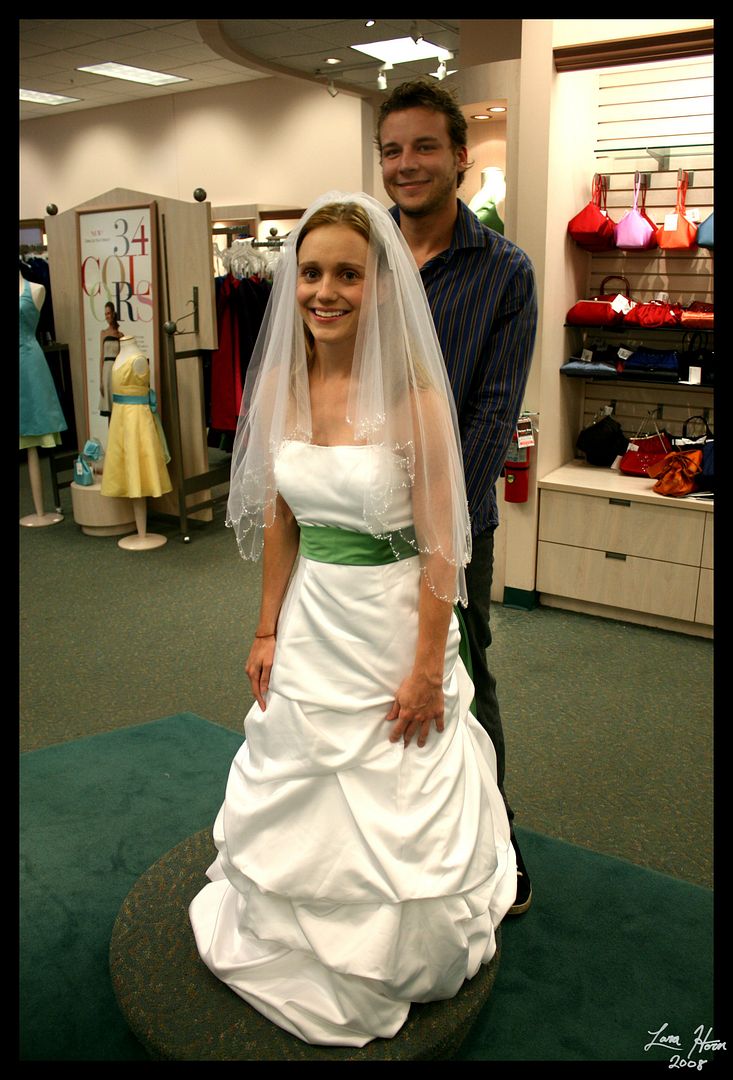 Dress One: Very plain bodice with a green sash and tons of ruching.
Dress Two: Sparkly bodice, less dramatic ruching on skirt.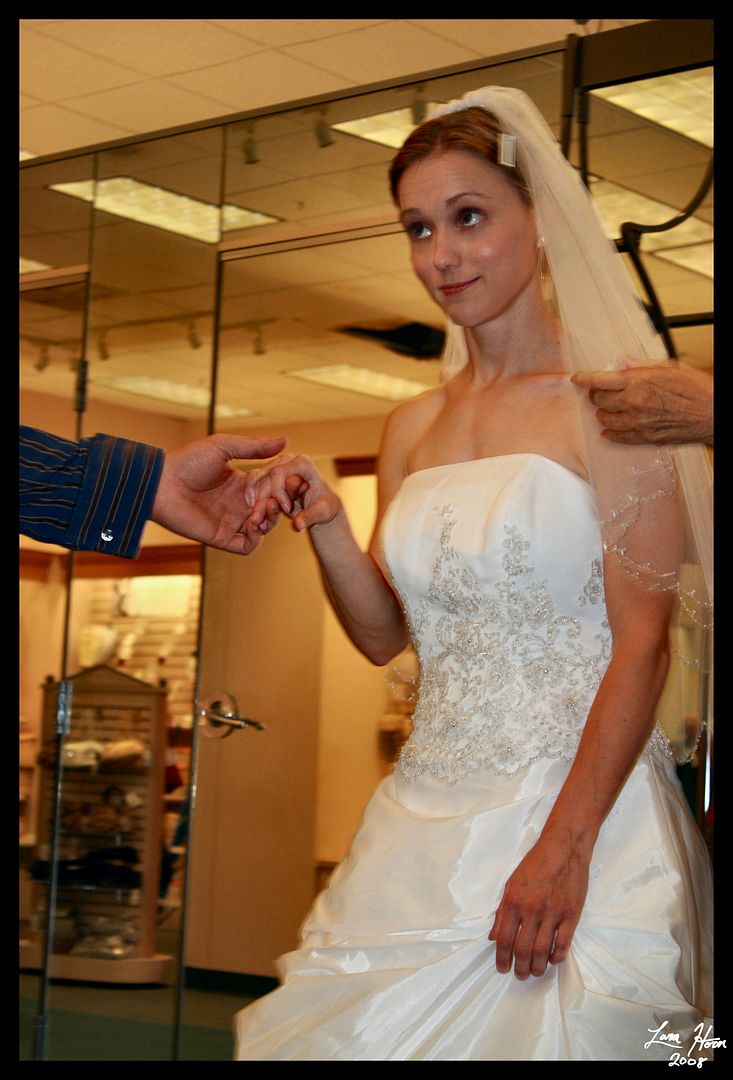 Close-up on dress two. This is by far favorite picture of the day. I look like a princess who was just asked to dance.
Dress three: Boning and embroidery on bodice and full ruched skirt. This one made me cry. I also like the veil with tiny pearls in it.
Needless to say, I didn't buy one that day. I continued my search that summer at a more upscale boutique, but still came a way empty handed. The old adage about finding things when you aren't looking for them held true for me:
I was at the thrift store on half price day and among my treasures I had a wedding planning book. One of the employees of the store saw the book and informed me they had wedding dresses. Familiar with the usual yellowing 80's atrocities hanging in the dress section, I nodded dismissively. She sensed my hesitation and added "a boutique went out of business and donated all their remaining stock." I perked up, but what were the odds two wedding dress retailers with thousands of dresses didn't have anything, but Goodwill did?
I meandered over to check the rack and found this beautiful Alfred Angelo dress in the right silhouette in a small-ish size. It was marked WAY down and half price so I figured even if it wasn't perfect it was a good starting place for alterations or at least good material in the worst case scenario.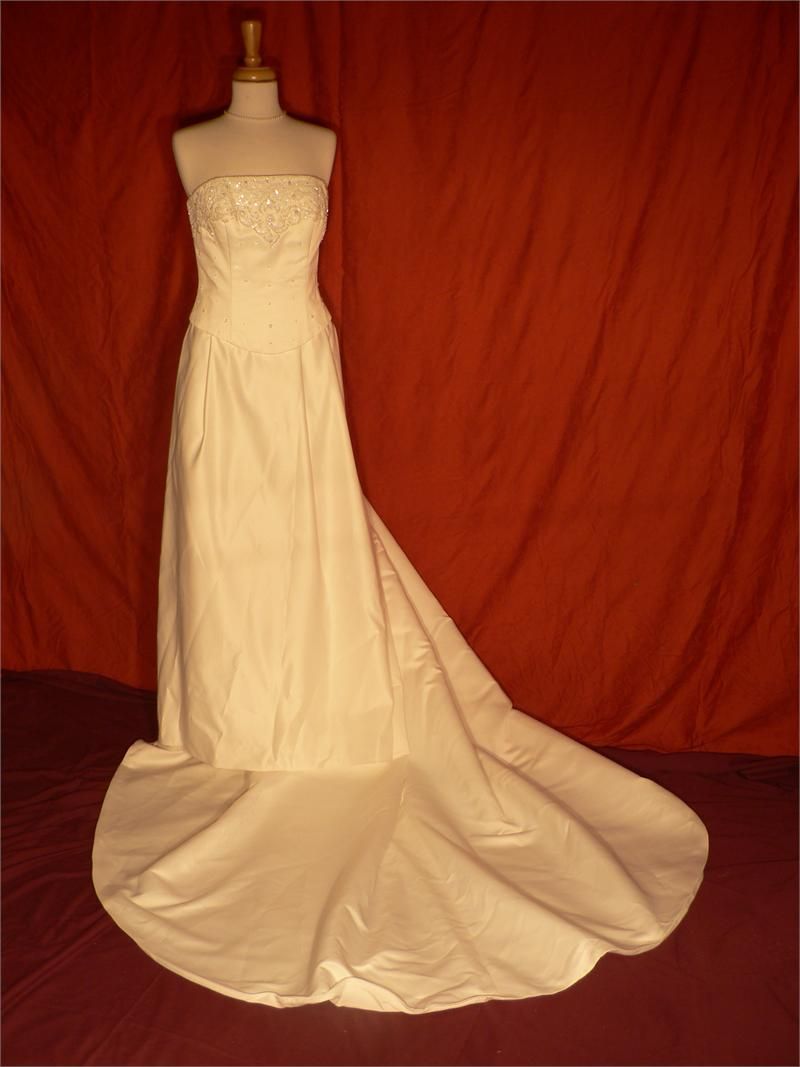 The dress.
Closeup on the bodice.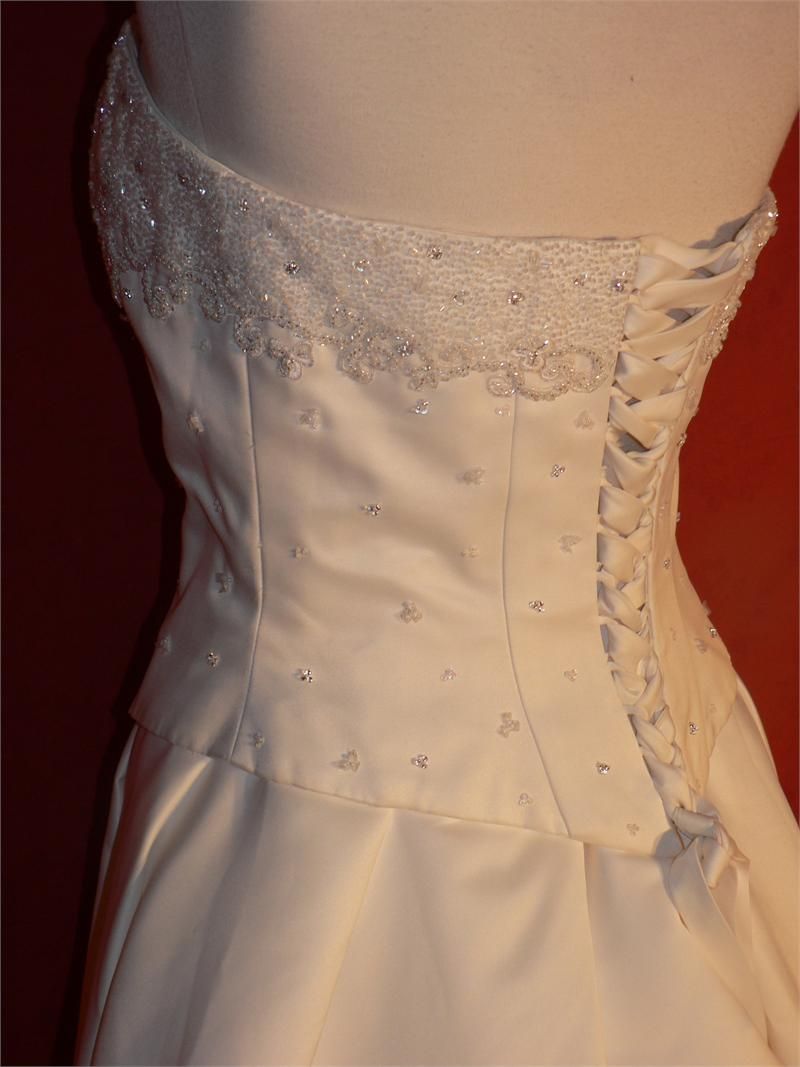 The back.
I have pictures of me in it, but I'll save those for before shot when I get into the alterations. I love the design on the bodice that looks like a Celtic knot, but there are too many sequins. Also, the train has got to go and I need a bit of green somewhere. Love the raw potential.