The ring was quite a point of contention for awhile. We were unoffically engaged a long time. So, long I concieved, incubated and gave birth to a new person. I became self concious of "ring lookers". I walked around with my newborn and my tiny stature, I'm sure being mistaken for a teen mom. I knew Mike wasn't dragging his heals out of fear of committment, but rather a perfectionist need to "do it right." It's no less annoying when that's the reason by the way.
My mom sent me my grandma's ring the previous Thanksgiving. It's a beautiful ring and it was my mom's engagement ring. I wore it when I was fearful of ring lookers or just needed something tangible. I offered to let Mike hang on to it and propose with it, but he wouldn't hear of it.

My grandma's ring.

Mike and I had a long talk about what kind of ring I'd like and even visited some jewerly stores together. I knew I didn't want a diamond solitare that just didn't appeal to me. Not that there's anything wrong with diamonds, I happen to think they're beautiful. My favorite stone is emerald and in our reasearching we found a jewelry store that specialized in emeralds. I loved this one:

It was in a jewelry store called Queen Emerald. All of their beautiful natural stones were from South America. The man who worked there was incredibly nice. He taught us all about the color and clarity scale and talked cuts of stone with us for a long time. I had hoped Mike would return for that ring, but he wanted to buy loose stones and his own setting (of course).
Here's the ring he proposed with:
My Engagment Ring:
The stone is a round cut emerald, which we learned are pretty rare in this size. Isn't it beautiful? It came from Queen Emerald of course. It is flanked on either side by small pear shaped diamonds. No idea where those came from, we looked at daimonds all over town and NO ONE was as nice as the Queen Emerald guy. The setting may be upgraded to platinum someday. I was just so happy to finally have a ring.
Here's the wedding band I like. Told you I like diamonds. I want an eternity band, sue me, I am a girl. I love the cicles alternating with the eye-shape. We looked at these at one or two stores once upon a time. I hope I can still find something like it.
My wedding band: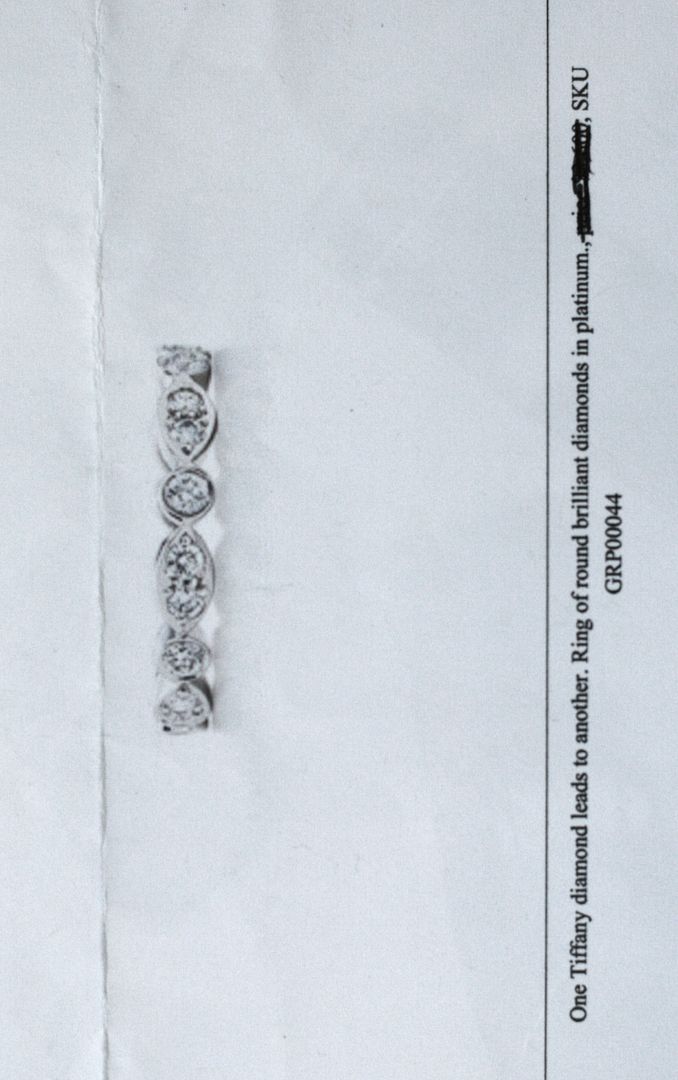 Beautiful, isn't it? Sigh.
I'm not opposed to the idea of substituting some of the diamonds for emeralds. It would certainly make it cheaper and it would match my engagement ring better. I really like it this way though. I guess we'll see where we land on that once we start paying for things.
Originally, Mike said no stones in his wedding band and I picked out a beautifully hand-engraved palladium ring for him. I love the idea of him having a palladium ring because that is used in all kinds of technology. I can't find any good images, but trust it was nice. After he saw it in person he told me he didn't like it. He also changed his mind about wanting stones (like so many grooms I know!). Here's his pick:

He says it "reminds him of Zelda". Something about the triangles. I like that the stones are inlaid and we would match. Honestly, I'm still secretly pouting over the original ring he rejected. Plus, having a vague sense what the stones for my engagement ring cost I told him we would never be able to afford this.
He said "Don't worry, I don't need a natural emerald we can get a lab grown one much cheaper. It isn't that important for mine. My ring is only a sold tag, anyway."