Remember when I posted that I ran around telling people I was getting married soon and nobody cared? Well, a month in, I found them: health insurance and car insurance. That's the sum total of who cares who cares (ex-significant others not withstanding). Life is largely the same. I've been sporting a shorter haircut post honeymoon which Mike surprisingly liked right away. I've yet to check off all my "it can wait until after the wedding" to dos. All of our wedding gifts (expect the frames because we're waiting for pictures) are in use. I did manage to finish my thank you cards even if it took an additional week to get the stamps to mail the last batch. I feel good about that. Today I even got my vendor reviews down to the final 3. As far as post wedding goals go I took a schedule for sewing classes, but haven't signed up yet. In a week or two I should be able to see my professional wedding pictures and video. I can't wait. The wedding is getting a little hazy.
I've yet to check the Mrs. box on a form or call Mike my husband to a stranger. I have gotten my first "just because" flowers as a married woman. Also with the recent news that Isaac's mother is expecting (number 7), I cling to my now legal stepmother status. Some more pictures have trickled in from friends and family which is super exciting. Including this proof that I wasn't exaggerating about packing up two carloads of stuff at the end of the night. After a month it's finally amusing what a disaster the end of the night was.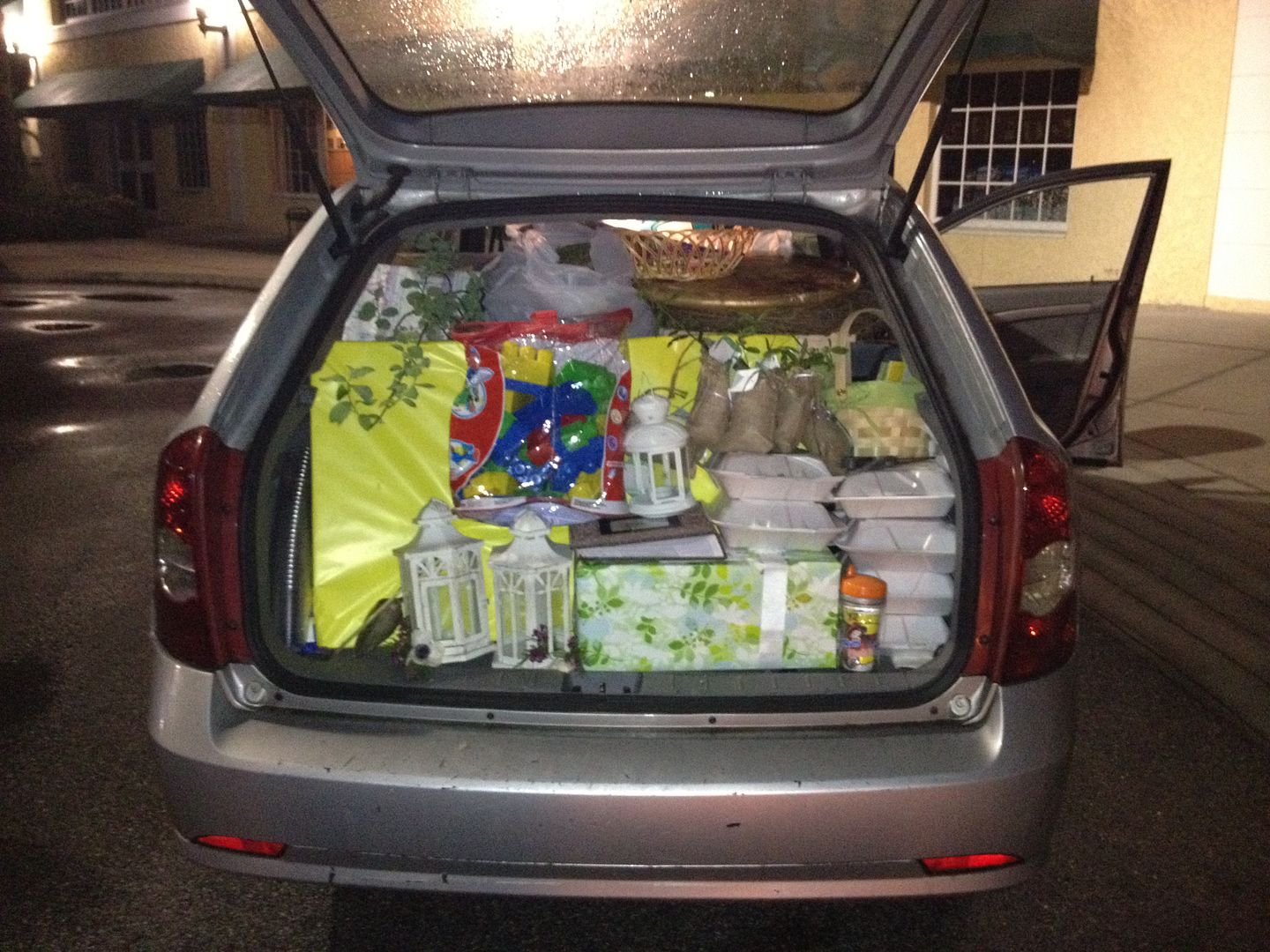 It's nice to have it over and done with. Except I'm not used to not having an unrelenting to do list and a pressing deadline. It can be down right disorienting after years of planning a single event. Overall I really enjoyed planning, but I'm glad it's over. Planning events is fun, but the added emotional intensity surrounding your own wedding makes it...well less fun. I want to help other people plan. I learned a lot from my experience and I think I'd be a huge help to other brides.
In the meantime I have the kids' birthday parties to start thinking about. They'll be 3 and 10 this year. Whoa.
This is one of my favorite guest photos with Riley throwing the petals in great bursts. Flower fireworks. She did such a good job. Standing on the stool turned out great. We use it all the time now. Riley's uses it as a little desk or to climb into her highchair by herself. It really is pretty much back to normal around here, except I don't worry about ring checkers or dread explaining our relationship status to those I don't know very well. Now I can sum it up in one word, married. Anyone who probes deeper will surely be confused by us being together 5yrs and having a 9yr old and 2yr old having only just been married, ha, ha!.